Chocolate Topped Peanut Butter Pie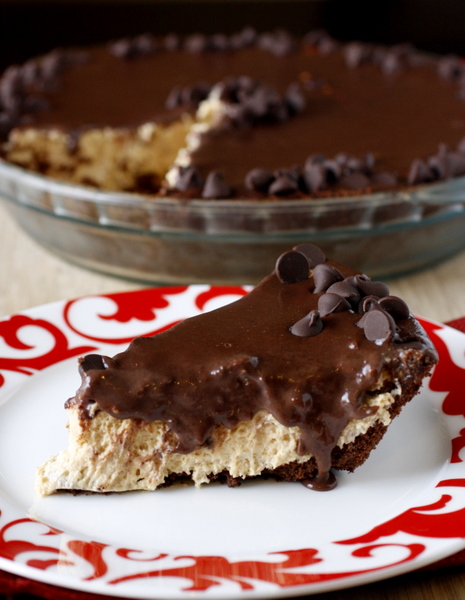 It doesn't get much better than this chocolate topped peanut butter pie!  We absolutely loved this dessert. Mike isn't usually too big a fan of peanut butter desserts, but even he talked about how much he liked this pie.  I made it for a get together with friends a few weeks ago and it got rave reviews. The peanut butter filling is creamy and mousse-like, just like you'd expect from a peanut butter pie. Add in the chocolate cookie crust and the chocolate topping and you've got a chocolate and peanut butter combination that tastes amazing! Best of all, it really wasn't that hard to make! I'm pretty sure this is a dessert that will be making an appearance at our get togethers again and again. 🙂
*Note: Pay no attention to the drippy chocolate in the pictures. I had to cut into the pie a little early, before the chocolate had time to completely set, to make sure I had good light for pictures. 🙂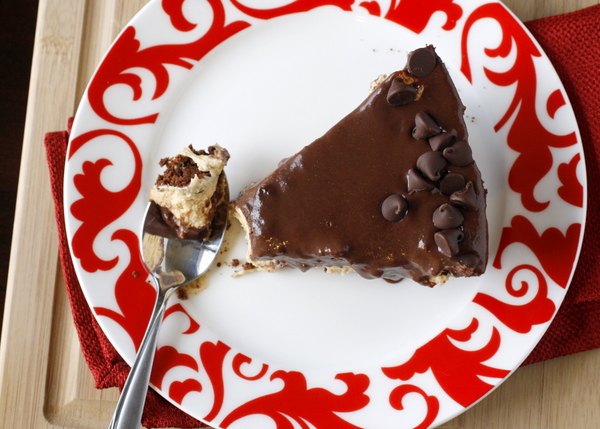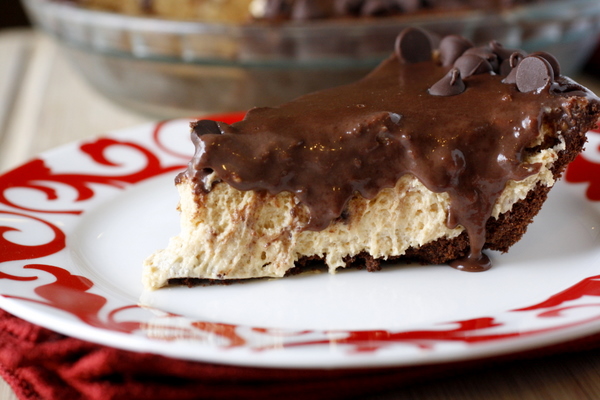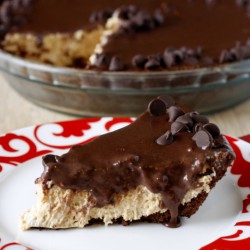 Chocolate Topped Peanut Butter Pie
Ingredients:
Crust:
9 oz chocolate teddy grahams
2 oz bittersweet chocolate, coarsely chopped
5 Tbsp unsalted butter, melted and cooled to room temperature
Filling:
8 oz cream cheese, at room temperature
1 cup creamy peanut butter
1/2 cup granulated sugar
1 tsp pure vanilla extract
1 cup heavy cream
Topping
4 oz semisweet chocolate, finely chopped
1 Tbsp unsalted butter
1/2 cup heavy cream
chocolate chips for garnish, optional
Directions:
Preheat oven to 325.
For the crust: In a food processor, finey grind the chocolate teddy grahams and the chocolate. Add the butter and pulse until well incorporated and moist clumps form. Transfer to a 9-inch pie plate and press the crust evenly into the bottom and up the sides. Bake until set, about 8 minutes. Cool completely on a wire rack.
For the Filling: In the bowl of an electric mixer, beat the cream cheese, peanut butter, sugar, and vanilla until light and fluffy. In another bowl, whip 1 cup of the heavy cream until stiff. Fold the whipped cream into the cream cheese mixture until well combined. Evenly spoon the filling into the cooled crust. Place the pie in the refrigerator to set while making the topping.
For the topping: Place the chocolate and butter in a medium heatproof bowl. IN a small saucepan over medium-high heat, bring the 1/2 cup of cream just to a boil. Immediately pour the hot cream over the chocolate and butter. Let stand for 30 seconds, then whisk until smooth and all the chocolate has melted. Pour the chocolate topping evenly over the pie. Refrigerate, uncovered, until set, at least 4 hours. After about 30 minutes in the refrigerator, garnish the edges with chocolate chips, if desired.