Red Velvet Brownies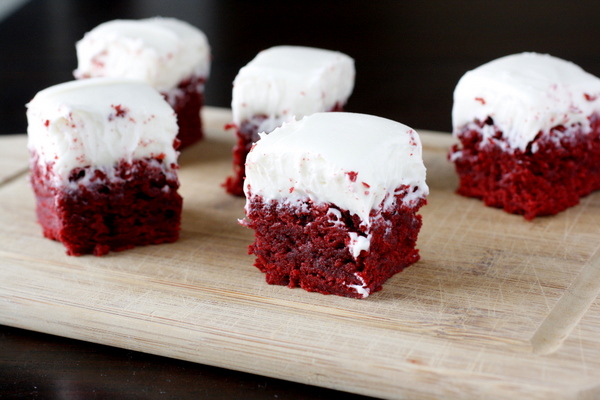 As I warned you on Facebook, I've got a few fun dessert recipes to share with you this week! With Valentine's Day approaching, I couldn't resist making some fun treats for the occasion. These red velvet brownies not only taste amazing, but definitely look the part of a Valentine's Day dessert. They're soft and dense and fudgy, with the great flavor you'd get from a traditional red velvet cake.  The brownies taste great on their own, but the cream cheese icing really puts them over the top. Everyone seemed to really like these, and Mike and I both discovered that they taste even better straight out of the refrigerator. Give these fun red velvet brownies a try for Valentine's Day this year – you'll be glad you did! 🙂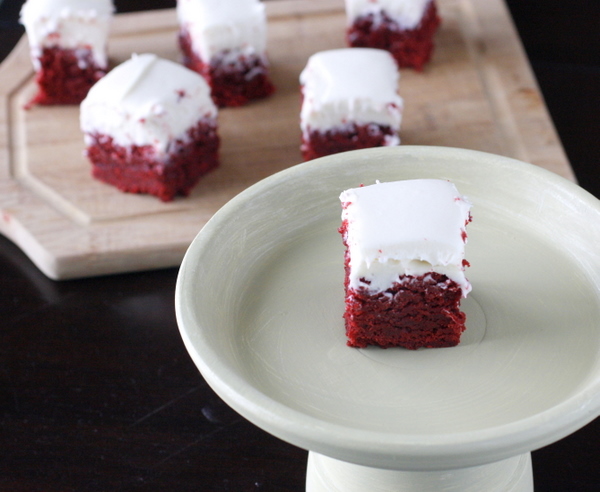 *Note: looking for a more traditional red velvet recipe? Try these red velvet cupcakes!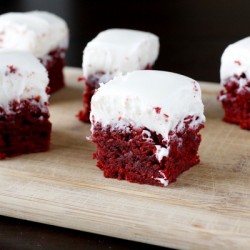 Red Velvet Brownies
Ingredients:
Brownies:
1/2 c. (1 stick) unsalted butter
3 oz. bittersweet chocolate, chopped
1-1/2 c. sugar
3 large eggs
1 tsp. vanilla
1/4 tsp. salt
1 oz. liquid red food coloring
1 c. flour
1/2 tsp. baking powder
Cream Cheese Frosting:
8 oz. cream cheese, at room temperature
4 T. butter, at room temperature
1 tsp. vanilla
1-1/2 c. sifted powdered sugar
Directions:
Preheat oven to 325°. Line a 9x9 baking pan with aluminum foil, leaving an overhang so you can lift out the brownies when they're done. Spray foil with nonstick spray.
In a large saucepan over low heat, stir together butter and chocolate until chocolate is melted. Remove from heat and whisk in the sugar and eggs. Stir in the vanilla, salt, and food coloring. Sift flour and baking powder over mixture and stir to blend well. Transfer batter to prepared pan.
Bake 35 to 40 minutes, or until the top springs back when touched and a tester inserted into center comes out with moist crumbs. Cool completely in pan on rack.
For the frosting: In a large bowl, beat the cream cheese and butter until light and fluffy. Beat in the vanilla and powdered sugar. Remove the brownies from the pan using the foil and cover with the frosting. Cut into bite size squares to serve.