Indian Chicken Wraps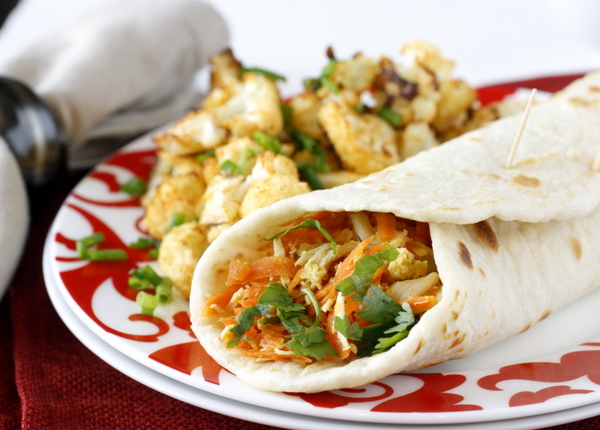 These Indian chicken wraps make a great quick and easy dinner. I couldn't believe how good and full of flavor they were, especially since they took about 20 minutes to make! The recipe starts with already cooked rotisserie chicken, which makes everything easier, and combines a fun combination of spices and veggies to make these wraps really stand out. The spice mixture was wonderful. I have no idea if these taste anything close to authentic Indian food (I'm guessing not), but they tasted great so I wasn't too worried about it. They weren't very hot, so if you want some added spice, throw in an extra chile pepper in the beginning. We liked them as is, but we aren't big fans of spicy food around here. I absolutely loved these wraps and plan on making them part of our regular menu plan. And you have to try the soft wrap bread with these – everything tastes better on soft wrap bread!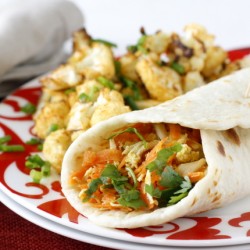 Indian Chicken Wraps
Ingredients:
1/2 cup plain yogurt
2 tsp fresh lime juice
1/3 cup chopped fresh cilantro
1 inch piece of ginger, peeled and roughly chopped
1 serrano chile pepper, halved, seeded and roughly chopped
1/2 small onion, roughly chopped
1/2 tsp ground cumin
Kosher salt
1 Tbsp vegetable oil
2 cups shredded rotisserie chicken
2 medium carrots, shredded
4 pieces naan bread or pocketless pita, warmed (I used soft wrap bread)
Directions:
Mix together the yogurt, lime juice, cilantro and a pinch of salt in a small bowl. Cover and chill until ready to serve.
Combine the ginger, chile, onion, cumin and 1/4 tsp salt in a small food processor and pulse to make a thick paste. Heat the vegetable oil in a large skillet over medium-high heat. Add the ginger-chile paste and cook, stirring, until most of the liquid has evaporated and the mixture is slightly toasted, about 5 minutes. Stir in the chicken, carrots, 1/4 tsp salt and 1/2 cup of water. Continue to cook, stirring, until the sauce is thick and the chicken is heated through, about 2 more minutes. Taste and season with extra salt if necessary.
Serve the chicken mixture on the wraps with the yogurt sauce as a dressing.
from Food Network Magazine, March 2012