Thin Mint Truffles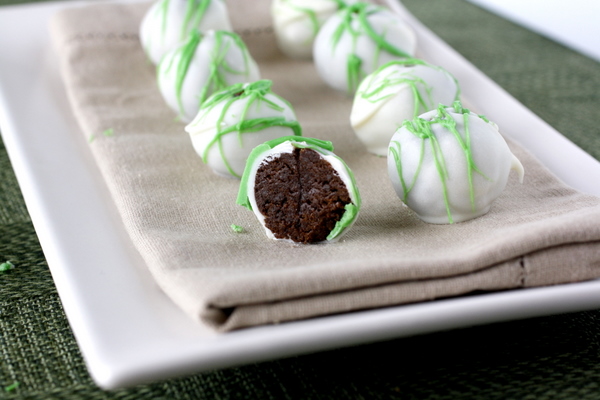 A friend at work gave me this idea for Thin Mint truffles a few months ago. It took me awhile to get around to actually making them because I wasn't sure I wanted to use up my only box of Thin Mints on a new recipe idea. However, I'm so glad I tried it because, as much as I love eating Thin Mints straight out of the freezer, I like eating these Thin Mint truffles even more. They are similar to oreo truffles, but with a slightly different texture, and of course a minty taste. I actually prefer them to oreo truffles which is disappointing, since I can't buy Thin Mints year round at the store. Although maybe that's for the best because neither Mike nor I could stop eating these addictive little truffles. If you've got some extra Thin Mints laying around your house (or if you need an excuse to buy even more Girl Scout cookies), give these Thin Mint truffles a try. I bet you'll love them as much as we did!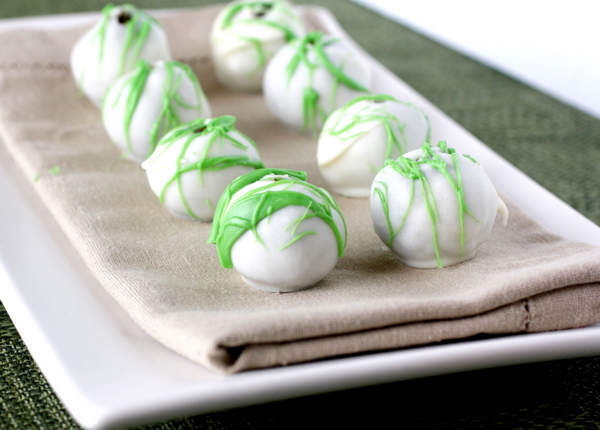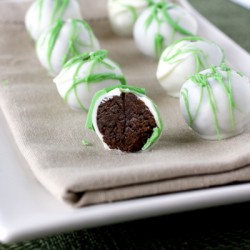 Thin Mint Truffles
Ingredients:
1 box thin mints
4 oz cream cheese, softened
1 package white chocolate candy melts
Directions:
Crush Thin Mints into fine crumbs in a food processor. Mix crushed cookies and softened cream cheese in a large bowl until completely combined (your hands work best for this). Roll into small balls. Melt white chocolate discs in the microwave, stirring until smooth. Using a toothpick, dip the Thin Mint balls into the chocolate, letting the excess chocolate drip off. Set the truffles on waxed paper to cool. If desired, drizzle with melted green candy melts or with white chocolate candy melts mixed with a dab of green gel food coloring.