Lemon Thyme Biscuits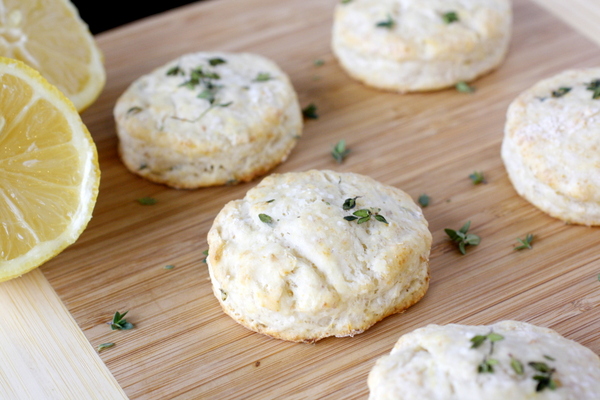 Happy Easter! I realize these lemon thyme biscuits are a little late for those of you had just had a big Easter brunch, but they are still perfect for Spring! They have a light and tender texture, and a bright lemon taste. There's something about the taste of lemon that is so cheerful, don't you think?  I was initially intrigued by this recipe when I saw it in a magazine, but wasn't sure how I'd feel about lemon flavored biscuits.  Thankfully the taste was subtle and I ended up really liking these.  The thyme is not a strong flavor in these biscuits, which was fine with me, but if you really like the taste of thyme, you may want to add some extra. Mike liked the biscuits as well and we both agreed that they are a great accompaniment to eggs.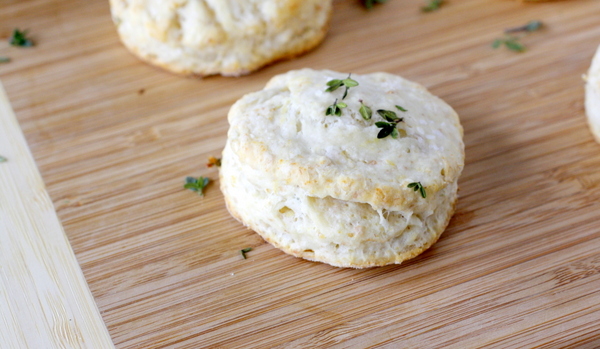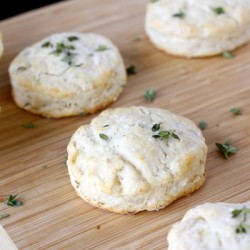 Lemon Thyme Biscuits
Ingredients:
2 cups all-purpose flour
2 tsp baking powder
1/4 tsp baking soda
2 Tbsp wheat germ
1 tsp kosher salt
1 tsp lemon zest
1 tsp chopped fresh thyme, plus more for sprinkling
4 Tbsp cold unsalted butter, cut into small pieces
1 cup buttermilk
Directions:
Preheat the oven to 425. In a medium bowl whisk together the flour, baking powder, baking soda, wheat germ, salt, lemon zest and time. Using a pastry blender, work the butter into the flour mixture until it is in pea-sized pieces. Gently stir in the buttermilk with a wooden spoon just until moistened. Turn the dough out onto a floured surface and knead briefly, 3-5 times. Any more than that will cause the biscuits to be tough. Roll the dough out to 1/2 inch thick and cut out biscuits with a 2-inch round biscuit cutter. Re-roll the scraps to cut out more biscuits. Brush the tops with water and sprinkle with kosher salt and thyme. Bake until golden brown, 12-15 minutes. Serve warm.
Food Network Magazine, July/August 2011