Crispy Pan-Fried Chicken Fingers
These crispy pan-fried chicken fingers make a great quick and easy dinner. I was in a dinner rut a few weeks ago and started searching magazines for something new to try. These chicken fingers popped out at me because I already had everything that I needed to make them.  The panko breadcrumbs made the chicken nice and crunchy, and I loved the simple, yet delicious flavor, especially with the addition of a little ranch dressing! If you're looking for a quick and easy way to fix chicken for dinner, give these crispy pan-fried chicken fingers a try – we loved them!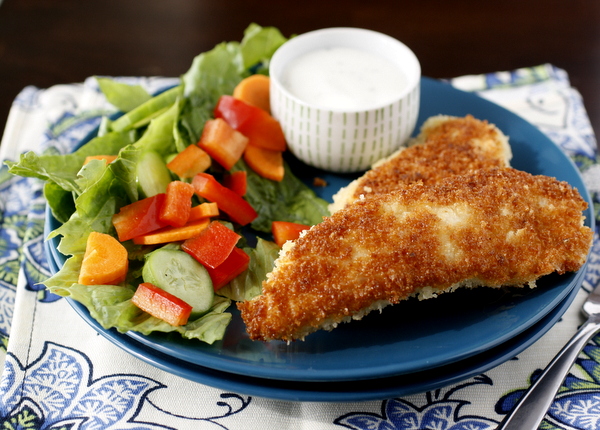 Crispy Pan-Fried Chicken Fingers
Ingredients:
1 lb boneless skinless chicken breasts
2 Tbsp cornstarch
1 tsp garlic powder
Dash of ground red pepper
1/4 tsp salt
4 Tbsp milk
2 large egg whites, lightly beaten
1 cup panko breadcrumbs
2 Tbsp canola oil
Ranch dressing, for serving
Directions:
Cut the chicken breasts into strips so they are the size of chicken fingers. In a shallow bowl, combine the cornstarch, garlic powder, red pepper, and salt. In another shallow bowl, combine the milk and egg whites. Place panko in a third bowl. Dredge chicken in cornstarch mixture, then dip in milk mixture. Coat with panko breadcrumbs.
Heat a medium nonstick skillet over medium-high heat. Add oil to the pan and swirl to coat. Add chicken and saute 3 minutes per side, or until chicken is cooked through and the outside is browned and crispy.
Serve with ranch dressing.