Extraordinary Grilled Cheese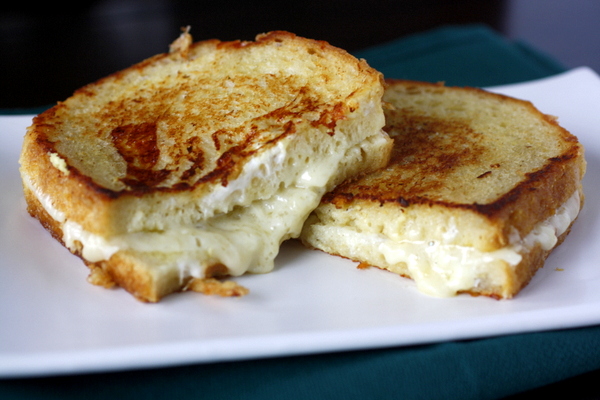 When I first saw the name of this recipe, I had to stop for a moment. Really? Extraordinary Grilled Cheese? I wasn't quite sure what could make grilled cheese so extraordinary. But when I started reading through the list of instructions, I began to change my mind. This recipe calls for gruyere cheese (which I will always think of as "fancy" after eating it in Switzerland), sourdough bread that has been soaked in white wine, and plenty of butter and oil to make the sandwiches nice and crisp. Once I saw all of that, I made this recipe at the earliest opportunity. Mike and I both agree that the title of Extraordinary Grilled Cheese is well deserved. The recipe comes from my French Farmhouse cookbook and is suggested as an appetizer, with the sandwiches cut into strips. I can see why, because this stuff is rich! But oh so good.

The wine flavor was a little strong for us, so I would probably let the bread soak a little less next time, but other than that this recipe was pretty much perfect. Let me know if you try it please, and if you think it's extraordinary.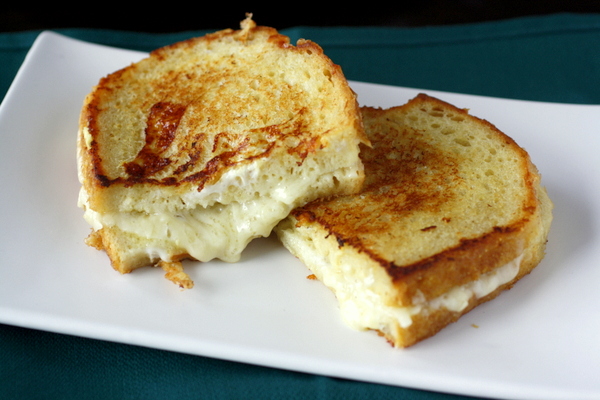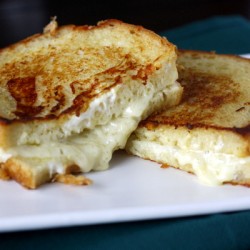 Extraordinary Grilled Cheese
Prep Time: 5 min
Cook Time: 10 min
Total Time: 15 min
Ingredients:
2 large eggs
1 cup lightly fruity white wine, such as Riesling
Sea salt and freshly ground black pepper
3 long slices Sourdough Bread, cut in half crosswise
1 Tbsp unsalted butter
1 Tbsp vegetable oil
2 cups grated Gruyere cheese
Directions:
Whisk together the eggs, wine, a generous amount of salt, and a touch of pepper in a small bowl. Transfer to a shallow dish that's large enough to hold the bread slices in one layer. Place the bread slices in the dish and leave them there for several minutes so they become thoroughly soaked in the mixture (without falling apart).
Heat the butter and oil in a nonstick skillet over medium heat. Add 3 slices of the bread. Top each slice with some cheese, and then with a slice of the remaining bread. Cook on one side until the bread is golden and the cheese is half melted, about 3 1/2 minutes. Turn and cook on the other side until the bread is golden and the cheese is fully melted, an additional 3 1/2 minutes.
*Links are Amazon affiliates