S'mores Dip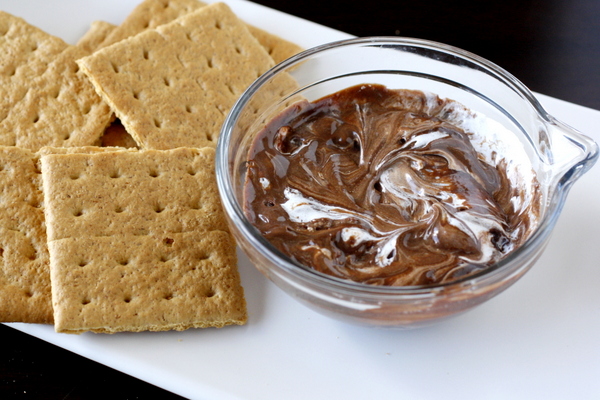 How can you go wrong with a name like "s'mores dip"?? This dip is so good and exactly what you would expect from something made out of chocolate, marshmallows and graham crackers. To be honest, I'm not really a s'mores fan for the most part. When we go camping, I will roast marshmallow after marshmallow, and I may even eat some chocolate and/or graham crackers. But for some reason the actual s'mores just never really appealed to me. That being said, I can't get enough of this dip!
The dip itself tastes just like the inside of a s'more, and when you dip graham crackers into it, it will make you feel like you're sitting outside around the campfire. I have no idea why I like this dip more than traditional s'mores, since I'm pretty sure they taste about the same, but I do. And I'm pretty sure you'll like it just as much as I do. Best of all, it only takes about 5 minutes to make. This dip does taste best warm, so you might have to reheat it in the microwave, or maybe try serving it in one of those mini crockpots that's perfect for warm dips like this one. Enjoy! 🙂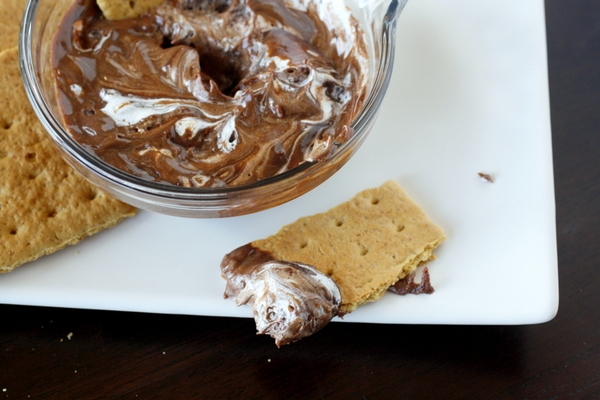 Looking for more yummy dessert dips?  Check out this mouth watering Chocolate Chip Cookie Dough Dip or this delicious Red Velvet Cheese Ball recipe!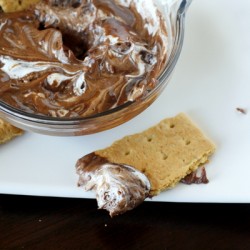 S'mores Dip
Ingredients:
1 14oz can sweetened Condensed Milk
1 1/2 cups Chocolate Chips
1/2 cup marshmallow cream
Graham Crackers, for serving
Directions:
In a small microwavable bowl, microwave chocolate chips and condensed milk on High 1 - 2 minutes, stirring about every 30 seconds, until chips are melted. Mix well.
Pour into 9-inch glass pie pan, spreading evenly. Drop marshmallow creme by tablespoonfuls randomly over chocolate mixture.
Microwave on High about 30 seconds or until marshmallow creme is softened.
Immediately make several swirls through marshmallow and chocolate, creating a marbled appearance.
Serve immediately with graham crackers for dipping.