Rustic Tomato and Mozzarella Tart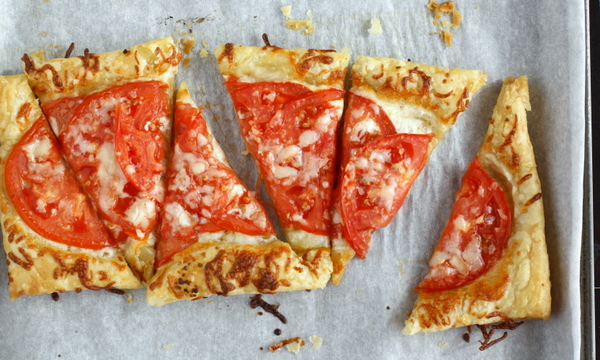 Another winning recipe from my favorite cookbook! If you haven't picked up Cooking from the Farmer's Market, yet, you need to. Every recipeI've tried has been a success.  This tomato and mozzarella tart was incredibly simple to make, and it tasted so fresh! When I first told Mike I was making a tomato tart, he gave me a funny look and said: "That doesn't sound very good." In full disclosure, we did have a very unpleasant experience with a tomato pie a few years back, so I understand why he was nervous. But by the time this came out of the oven, he was singing a different tune. It was more along the lines of "That smells amazing." And by the time dinner was done? I believe the words that came out of his mouth were: "You can make this anytime you want."  Suffice it to say, this recipe is a winner – flaky puff pastry, melty cheese, and warm summer tomatoes – you can't beat it!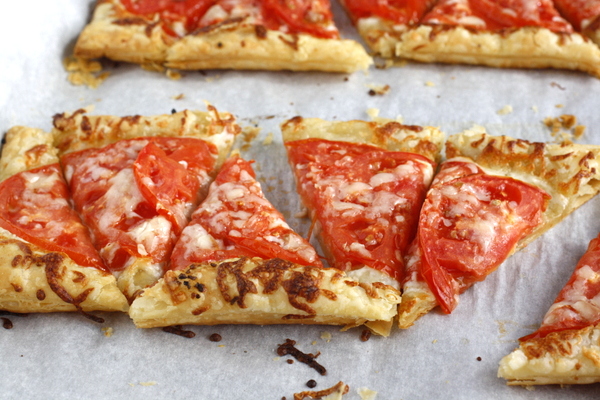 *Note: I forgot to add the basil and olive oil before taking the pictures – sorry!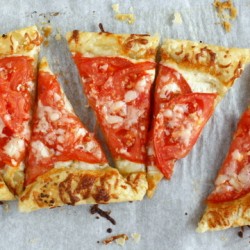 Rustic Tomato and MozzarellaTart
Ingredients:
2-3 ripe tomatoes, cut into slices 1/8 inch thick
salt
1 clove garlic, finely chopped
1 Tbsp unsalted butter, melted
8x10 inch rectangle of frozen puff pastry, cut in half and thawed in the refrigerator
3/4 cup shredded mozzarella cheese
4 Tbsp grated Parmesan cheese
2 Tbsp chopped fresh basil
olive oil for drizzling
Directions:
Position a rack in the upper third of the oven and preheat to 400. Place the tomato slices on paper towels, sprinkle with salt, and let drain for 30-60 minutes.
In a small bowl, combine the garlic and butter. Place the puff pastry rectangles on a baking sheet lined with parchment paper. Brush with the garlic butter and season with salt. Leaving a 1/4-inch border, sprinkle the pastry evenly with the mozzarella and 2 Tbsp of the Parmesan. Arrange the tomato slices on top and sprinkle with the remaining 2 Tbsp Parmesan. Bake until puffed and golden, about 25 minutes. Sprinkle with the basil and drizzle with the olive oil. Serve immediately.
*Amazon links are affiliates