Skinny Pool-Side Dip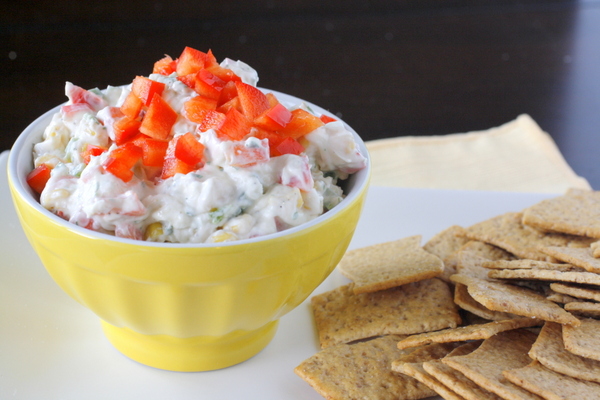 I'm really hoping you try this dip before summer is over. I wish I had tried it back in May or June so that I could have been enjoying it for months now! Although, despite the name, I'm guessing you can serve this at any time – not just in the Summer by the pool.

I was very pleasantly surprised at how good this dip was.  Seemingly simple ingredients come together perfectly to make a creamy, yet healthy spread for vegetables or crackers. It's full of flavor and the fresh veggies give it a great texture. I made this to take camping a few weeks ago and it didn't last long. Everyone who tried it really liked it, and it was gone by the end of the first day! I'll definitely be making this again – I'm hoping it will encourage me to eat more vegetables! Although judging from the pictures I'm posting, I'm guessing it will just encourage me to eat more crackers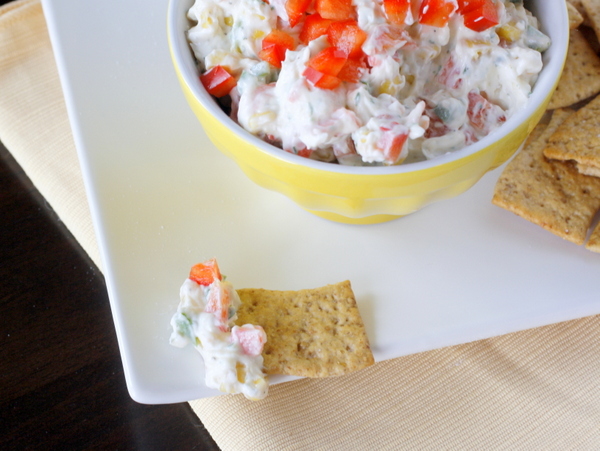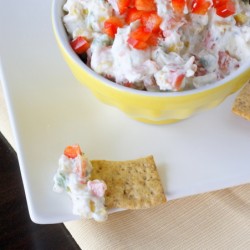 Skinny Pool-Side Dip
Ingredients:
1 red pepper, diced
2 jalapenos, diced and unseeded (Of course, unless you want this to be a little on the spicy side, keep the seeds)
1 can of corn, drained
1/2 can diced black olives, optional
16 oz fat free cream cheese, softened
1 packet Hidden Valley Ranch dip seasoning
Directions:
Mix the ingredients together and chill for a couple of hours or overnight.
Serve with crackers or raw veggies.