Apple Pie Bites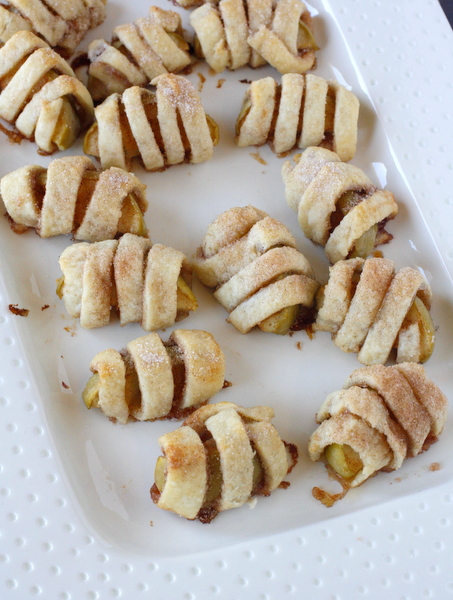 Aren't these apple pie bites cute? The concept is pretty simple – just take some pie dough, coat it in cinnamon sugar, wrap it around apple slices and bake. The end result is basically a mini apple pie in bite size form. In the picture you can see that I left the apple skins on, but next time I make them, I would definitely peel the apples first. Other than that, these were great. They were perfect for Fall and really did taste like apple pie. Plus they're just so cute. Really, you can't go wrong with a bite sized version of a classic Fall dessert!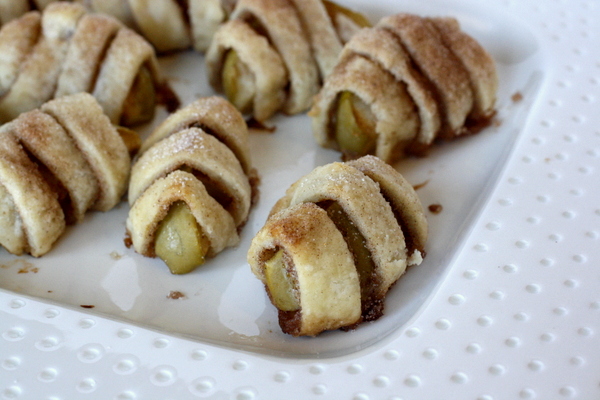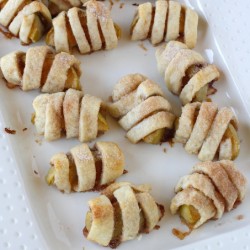 Apple Pie Bites
Ingredients:
1/2 cup sugar
2 tsp ground cinnamon
1 pkg (14.1 oz) refrigerated pie pastry (or make your own)
3 Tbsp butter, melted, divided
2-3 medium tart apples, peeled and cut into medium sized wedges (about 10 wedges per apple)
Directions:
In a small bowl, combine sugar and cinnamon. Set aside 1 Tbsp. On a lightly floured surface, unroll the pastry. Brush with 2 Tbsp of melted butter, and sprinkle with the remaining cinnamon sugar mixture.
Cut the pastry into thin strips. Wrap each strip around one apple wedge, placing the sugared side of the pastry against the apple. Place on a parchment lined baking sheet. Brush the tops with the remaining melted butter and sprinkle with the reserved cinnamon sugar mixture.
Bake at 425 for 13-15 minutes or until pastry is golden brown. Serve warm.
from Taste of Home, October 2011