Harvest Time Pumpkin Bars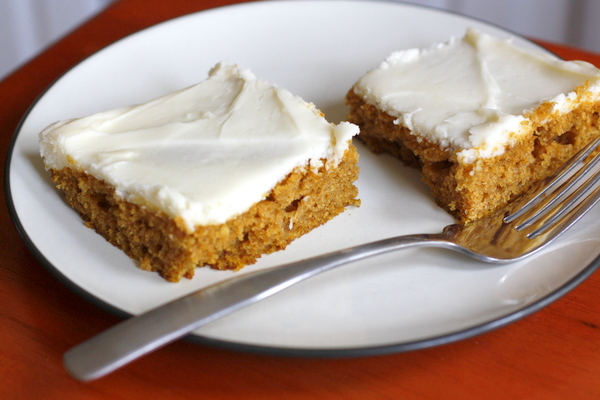 I've got another Thanksgiving recipe suggestion to share with you today. I made these pumpkin bars at the last minute last year, ran out of time to take pictures, and immediately decided I had to make them again this year. And they're just as good as I remember! They're moist and light, and of course full of cinnamon pumpkin flavor. I also think the cream cheese icing is the perfect pairing. It has a little less cream cheese than a typical recipe, which makes it just slightly sweeter and less tangy than usual. All in all, these pumpkin bars are absolutely delicious! 🙂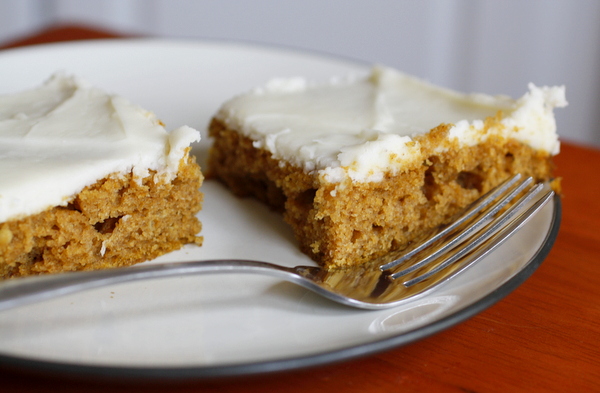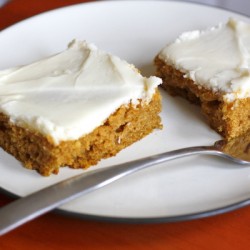 Harvest Time Pumpkin Bars
Ingredients:
2 cups all-purpose flour
2 teaspoons baking powder
2 teaspoons ground cinnamon
1 teaspoon baking soda
1/4 teaspoon salt
1 2/3 cups sugar
1 15 ounce can pumpkin
4 large eggs
1 cup canola oil
Cream Cheese Frosting
6 ounces cream cheese, softened
1/2 cup butter, softened
1 tsp vanilla
4 cups powdered sugar
Directions:
Preheat oven to 350. In a medium bowl, stir together flour, baking powder, cinnamon, baking soda, and salt; set aside. In a large mixing bowl, beat together sugar, pumpkin, eggs, and oil. Beat in the flour mixture until well mixed.
Spread batter in a 15x10x1-inch baking pan that has been sprayed with cooking spray. Bake for 20 to 25 minutes or until a wooden toothpick inserted in center comes out clean. Cool in pan on a wire rack. Once cool, frost with cream cheese frosting.
For the frosting: In a large mixing bowl beat cream cheese, butter, and vanilla with an electric mixer on medium speed until light and fluffy. Gradually beat in powdered sugar to reach spreading consistency.
from Better Homes and Garden