Peanut Butter Dough Balls
Day 4 of the 12 Days of Christmas Treats
These dough balls may not look like much. They're not as cute as peppermint meltaways, and they don't seem as festive as mint chocolate puddles. But don't let their humble look deceive you. These peanut butter dough balls are wonderful. I got the recipe from Mama Pea's blog, which is one of my favorites! She was trying to replicate Annie The Baker's dough balls which I've heard wonderful things about. I took her recipe and made some minor tweaks based on what I had in the house.
The result is a peanut butter chocolate chip cookie that tastes more like cookie dough than a baked cookie.  They don't flatten in the oven, retaining the shape of a ball instead. The inside is soft and slightly crumbly, and a little gooey, like cookie dough. It's hard to explain, but they have a wonderful texture. Next time I plan to make them even better (and cuter!) by drizzling them with a little melted chocolate…yum!
If you're looking for a fun new take on chocolate chip cookies, give these a try. They'd make a great new tradition for Christmas!
P.S. You can see all of my Christmas treat recipes from over the years at this Christmas Cookies tag. Enjoy! And, as always, let me know if you try any and how you liked them.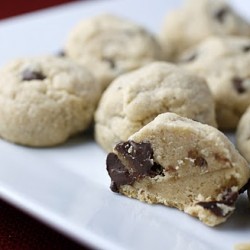 Peanut Butter Cookie Dough Balls
Ingredients:
1/2 cup butter, softened
3/4 cup peanut butter
1/2 cup brown sugar
3/4 cup powdered sugar
1/2 tsp. vanilla extract
1 tsp. baking powder
1/2 tsp. baking soda
3/4 tsp. salt
1/2 cup cake flour
1 cup all-purpose flour
1 cup chocolate chips
Directions:
Beat butter, peanut butter, sugars and vanilla in the bowl of a stand mixer until fully incorporated. In a separate bowl, combine baking powder, baking soda, salt and flours.
Slowly add the flour mixture to the mixer bowl and mix until a dough forms. Stir in the chocolate chips.
Chill for 30 minutes.
Preheat your oven to 350 degrees. Scoop dough with a mini ice cream scoop, roll into a ball and place on a cookie sheet. Bake for 10-12 minutes. They'll still be soft and look much like they did going in, but don't overbake. The bottoms will be very lightly browned. Let the dough balls rest on the pan for a minute before transferring to a cooling rack to cool completely.
Click here to see the rest of the 12 Days of Christmas Treats
If you like what you see, you may want to sign up to get free email updates or subscribe via rss. 🙂