Tortellini with Spinach, Broccoli, and Brown Butter
I just had to start off the new year with something containing vegetables. I feel like I owe it to you after all of those cookie recipes I posted in December. If you're like 95% of people everywhere, you're probably craving some sort of healthy vegetable-filled food right about now. Well this recipe for tortellini with spinach, broccoli and brown butter is for you. It's nutritious, filled with a variety of vegetables, and best of all, it tastes amazing. It's flavored with browned butter, so how could it be anything but delicious? Let's not completely shock the system after all those unhealthy December recipes, right?
This meal is so quick to throw together and is one of our new favorite weeknight meals. I made it one night a few weeks ago, we ate it for two meals, and then I immediately made it again the following week. I hope you like it as much as we did! 🙂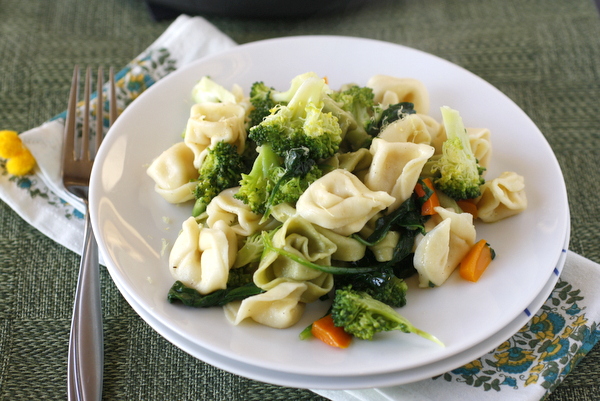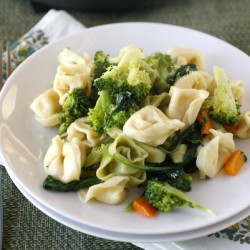 Tortellini with Spinach, Broccoli, and Brown Butter
Ingredients:
1 pound fresh or frozen cheese tortellini
1 cup broccoli, lightly steamed until crisp-tender
4 tablespoons (1/2 stick) unsalted butter
1 small bunch flat-leaf spinach, thick stems removed (about 6 cups)
1 red pepper, chopped
1 teaspoon finely grated lemon zest, plus 1 tablespoon fresh lemon juice
kosher salt and black pepper
Directions:
Cook the tortellini according to the package directions.
Meanwhile, melt the butter in a large skillet over medium heat and cook, stirring frequently, until golden, 2 to 3 minutes. Add the pepper and cook for 1-2 minutes, then add the spinach, tossing occasionally, until the spinach is wilted and the pepper begins to soften, about 2-3 minutes more. Add the tortellini, broccoli, lemon zest and juice, ½ teaspoon salt, and ¼ teaspoon pepper to the skillet and toss to combine. Serve immediately.