Glazed Lemon Muffins
I love trying new muffin recipes on Saturday mornings. Mike is a big fan of muffins, so he loves waking up to the smell of fresh muffins in the oven. (And yes, I definitely get up earlier than him on the weekend!) 🙂 These lemon muffins were a recent Saturday morning experiment, and I'm happy to say they turned out very well. They're a little more dense than I first expected, more like the texture of pound cake, but that certainly isn't a deterrent. The lemon glaze on top soaks down through the warm muffins and keeps them nice and moist, and the lemon flavor is strong, but not too tart. These would be great as a sort of coffee cake, or as an afternoon snack. And of course they make a great Saturday morning breakfast. 🙂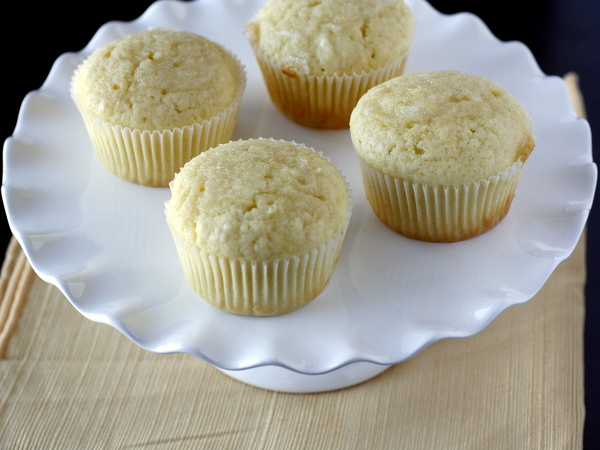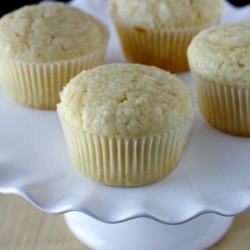 Glazed Lemon Muffins
Ingredients:
zest of 1 lemon
1 cup granulated sugar
6 Tbsp unsalted butter, softened
2 large eggs
1/4 cup fresh lemon juice
3/4 cup buttermilk
2 cups All-Purpose Flour
1 teaspoon baking powder
1/2 teaspoon salt
Glaze
juice of 1 lemon (about 1/4 cup)
1/2 cup sugar
Directions:
Pre-heat oven to 350. In a medium-sized mixing bowl, combine the sugar and lemon zest. Rub together with your fingertips until moist and fragrant. Add the butter and cream together the butter and sugar till thoroughly combined. Beat in the eggs one at a time, beating well after each addition. Mix the buttermilk with the lemon juice and set aside. In a separate bowl,Mix the flour, baking powder, and salt, and set aside.
Add the dry ingredients to the butter mixture alternately with the buttermilk mixture. Spoon the batter into the prepared muffin tin. Bake for 18-20 minutes, or until a toothpick inserted into a center muffin comes out clean. Remove the muffins from the oven, and poke them all over with a cake tester or toothpick.
For the glaze: Five minutes before the bread is done, whisk together the glaze ingredients, stirring until the sugar is dissolved, and while the muffins are hot drizzle them gradually with the glaze, stopping periodically to allow it to soak in. Set the muffins aside and let them cool in the pan for 10 to 15 minutes before removing them to cool compeltely on a cooling rack.