Nutella Swirled Banana Bread
If you like regular banana bread, you will love this Nutella swirled banana bread! This is my first time ever baking with Nutella, and I think it's safe to say I'm hooked. 🙂 I love traditional banana bread (and I've got a few great recipes on the blog), but there's something about this Nutella swirled version that really stands out. It's so moist and tender, and the recipe is actually really easy. It's just a standard banana bread recipe with Nutella swirled into half the batter. The flavors are so perfect together – you can't go wrong with bananas and Nutella, right? I hope you try this one – Mike claims it's "way better" than traditional banana bread. Enjoy!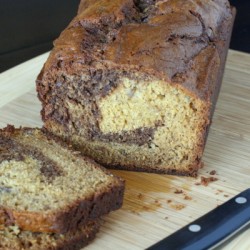 Nutella Swirled Banana Bread
Yield: 1 loaf
Prep Time: 15 min
Cook Time: 1 hour
Total Time: 1 hour 15 min
Ingredients:
2 1/3 cups all purpose flour
1 teaspoon baking powder
1 teaspoon baking soda
1/2 teaspoon salt
1 1/4 cups mashed ripe banana (about 3 large bananas)
6 tablespoons unsalted butter, softened
1/2 cup granulated sugar
1/2 cup packed brown sugar
1 teaspoon vanilla extract
2 large eggs
1/2 cup Nutella
Directions:
Heat oven to 350 degrees F. Lightly grease a 9-inch loaf pan and set aside.
Whisk together the flour, baking powder, baking soda and salt into a medium-sized bowl. Set aside.
In a large mixing bowl, beat together the butter, granulated sugar and brown sugar until creamy. Beat in the banana and, then beat in eggs and vanilla until well combined. Reduce mixer speed to low and beat in flour mixture until just combined. Divide 1/2 of of the batter into a separate bowl and stir in the Nutella.
Alternate spoonfuls of regular batter and Nutella batter into the prepared loaf pan. Swirl batter gently with a knife. Bake 1 hour or until a toothpick inserted into bread comes out with moist crumbs attached. Let cool 10 minutes in the pan before removing to a wire rack. Let cool completely before slicing.