Soft Iced Pumpkin Cookies
These soft iced pumpkin cookies are soft, moist, and perfectly spiced with fall flavor!
You are going to love these soft iced pumpkin cookies! I had some extra pumpkin in the house last week and Fall baking on my mind. I did some googling, and ended up discovering these delicious pumpkin cookies.
They are soft and cake-like and perfectly spiced. They are good by themselves, but the glaze kicks them up a notch and makes them absolutely delicious.
I served these cookies to some guests and to say they were a hit would be an understatement. My little 4 year old cousin took one bite and said "When I finish this one, can I have another one??"
These cookies are perfect for this time of year. If you love the flavor of pumpkin spice, you will love them. 🙂 Give these cookies a try – they will be loved by kids and adults alike!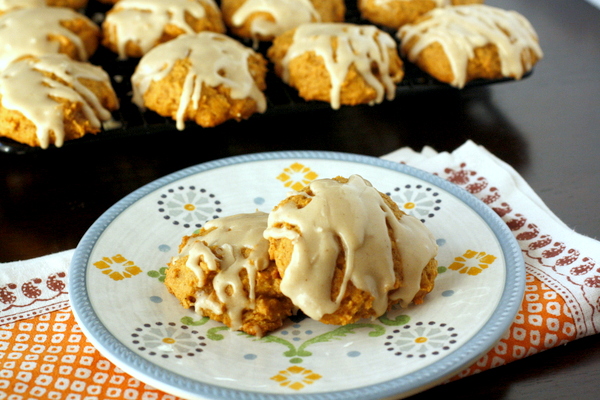 Interested in checking out more pumpkin or other amazing fall flavors?  You won't want to miss these 40 recipes!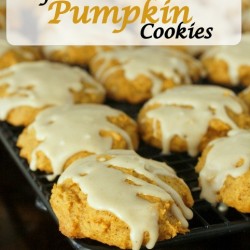 Soft Iced Pumpkin Cookies
Ingredients:
2 1/2 cups all-purpose flour
1 teaspoon baking powder
1 teaspoon baking soda
2 teaspoons ground cinnamon
1/2 teaspoon ground nutmeg
1/2 teaspoon ground cloves
1/2 teaspoon salt
1/2 cup butter, softened
1 1/2 cups granulated sugar
1 cup canned pumpkin puree
1 egg
1 teaspoon vanilla extract
For the glaze:
2 cups confectioners' sugar
~3 tablespoons milk
1 tablespoon melted butter
1 teaspoon vanilla extract
1/4 tsp cinnamon
Directions:
Preheat oven to 350 degrees F.
In a small bowl, whisk together the flour, baking powder, baking soda, cinnamon, nutmeg, ground cloves, and salt; set aside.
In a medium bowl, cream together the butter and sugar. Add pumpkin, egg, and vanilla and beat until creamy. Mix in dry ingredients until just combined.
Drop on cookie sheet by tablespoonfuls; flatten slightly.
Bake for 15 to 20 minutes, or until cookies are set and bottoms are just beginning to brown.
To Make Glaze:
Mix together all ingredients in a small bowl.
Add milk as needed, to achieve drizzling consistency.
Drizzle over cooled cookies.