Spinach, Mozzarella, and Pesto Roll-Ups
You are going to love these spinach, mozzarella, and pesto roll-ups!  They make a great appetizer or light dinner, and even have a make-ahead option. You can't go wrong with homemade crescent roll dough all rolled up with mozzarella cheese, spinach, pesto and Parmesan. Yum!! These little rolls are completely delicious, and also completely customizeable! Don't like pesto? Feel free to sub in something else. Prefer a stronger cheese? Play around with the flavors to find your perfect mixture. Next time I want to add in some roasted red pepper! Don't skip the extra little bit of Parmesan on top however – that little bit of cheesy crunch is the perfect addition.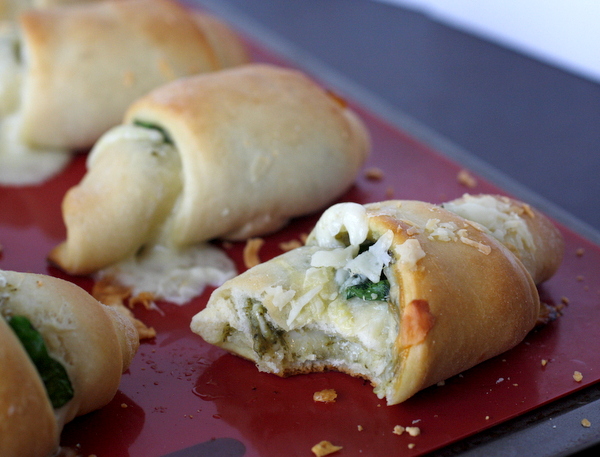 *Note: for best results, roll the dough out nice and thin, and also use plenty of the filling ingredients per roll. Don't skimp on the cheese! 🙂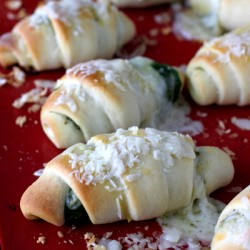 Spinach, Mozzarella, and Pesto Roll-Ups
Ingredients:
For the crescents:
2 (1/4 ounce) packages active dry yeast
3/4 cup warm water
1/2 cup granulated sugar
1 tsp salt
2 eggs
1/2 cup butter, softened
4 cups all-purpose flour
For the filling:
Jar of prepared pesto
6 oz sliced mozzarella cheese
6 oz freshly shaved Parmesan Cheese
3 oz fresh baby spinach
Directions:
Make the crescent dough: In the bowl of a stand mixer combine the yeast and warm water. Let sit until puffy, about 5 minutes. Stir in the sugar, salt, eggs, butter, and 2 cups of flour and mix until smooth. Mix in remaining flour and scrape dough from side of bowl. Knead dough, either with the dough hook of the mixer or by hand, until smooth. Cover and let rise in a warm place until double (about 1-1/2 hours).
Punch down the dough and divide in half. Roll each half into a 12-inch circle. Cut into 12-16 wedges, depending on how big you want your crescents to be. Spread a little bit of pesto on one of the wedges. Cover with half a slice of Mozzarella (or more depending on taste and how big your crescents are), a few pieces of spinach, and a sprinkling of Parmesan. Roll up the wedges tightly, starting with the wide end. Place rolls with the point under on a parchment lined baking sheet.
*I recommend baking a few to start with to help you determine how much filling you want on each crescent
Bake at 400 degrees F for 12 minutes or until just starting to brown. Brush the tops with a beaten egg and sprinkle with extra Parmesan cheese. Bake for 2 minutes longer, or until cheese is melted. If desired, brush with melted butter when they come out of the oven.
To make ahead, make as written then refrigerate or freeze. Re-heat, covered with foil, in a 350 degree oven until warmed through, 10-15 minutes. Brush with melted butter as they come out of the oven.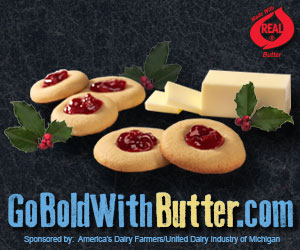 This post was sponsored by the United Dairy Industry of Michigan as part of their Go Bold with Butter campaign.  Be sure to follow their Pinterest page to find more recipes featuring real butter!