Creamy Broccoli and White Bean Soup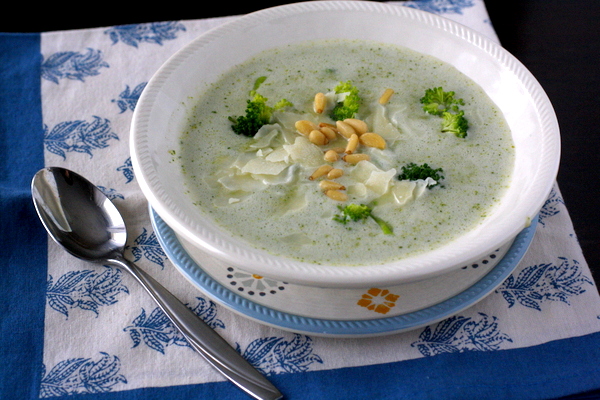 This creamy broccoli and white bean soup is about as easy as it gets. I made this for Mike and I after church one Sunday and I couldn't believe how quick it was to throw together!  It only took about 20 minutes, start to finish, and the end result was warm and comforting.  Plus it's very healthy, so you feel good about eating it. 🙂 This is such a simple soup, and I was pleasantly surprised by how much we liked it – I'm definitely planning to double the recipe next time I make it. If you're looking for a simple, healthy, and delicious winter meal, this creamy broccoli and white bean soup is for you.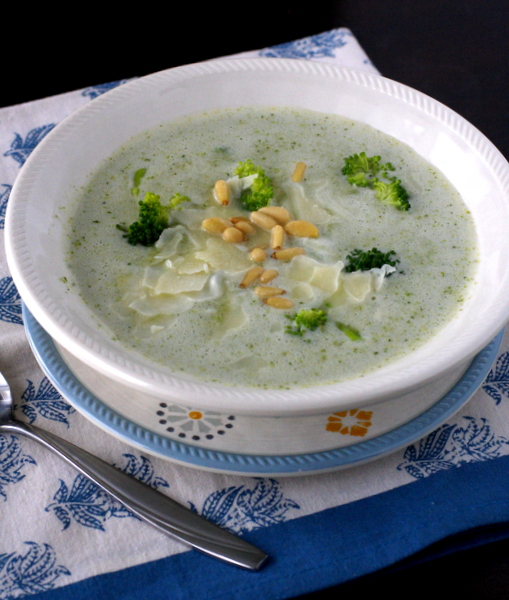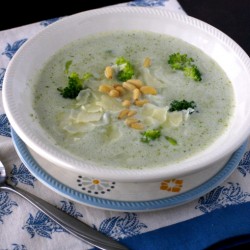 Creamy Broccoli and White Bean Soup
Ingredients:
1 head broccoli (1 pound), cut into florets, stems thinly sliced
2 tablespoons extra-virgin olive oil
1 yellow onion, diced
2 garlic cloves, thinly sliced
One 15-ounce can cannellini beans, drained
2 1/2 cups chicken stock
Kosher salt and freshly ground black pepper
1 tablespoon pine nuts, toasted
shaved Parmesan, for serving
Directions:
Steam broccoli florets and stems until tender and bright green, about 3 minutes. Let cool slightly and reserve 1/2 cup florets for garnish.
Heat oil in a medium pot over medium heat. Saute onion and garlic until translucent, about 6 minutes. Add beans and stock and bring mixture to a simmer.
Remove from heat and add broccoli; puree in batches in a blender until smooth. Season to taste with salt and pepper.
Garnish each bowl with broccoli florets, toasted pine nuts, and shaved Parmesan.