Chicken and White Bean Chili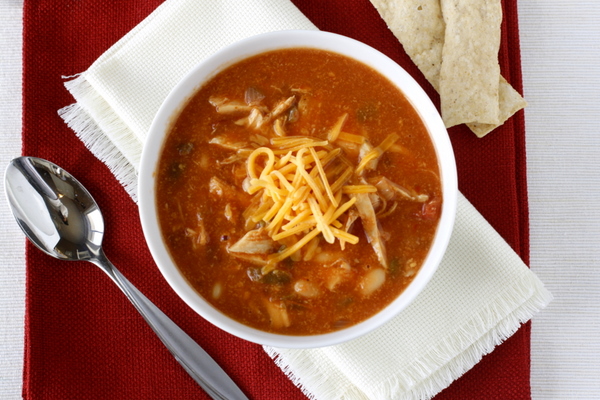 Remember back when I told you about our chili cook-off at work and I shared my friend's amazing white chicken chili that won the whole thing?  Well good news – today I'm sharing the second place winner!  This chicken and white bean chili was a close contender for first place in my mind. It's mildly spicy, cheesy, and has a different enough flavor to really make it stand out. Like most other chili recipes, it's very easy to put together and makes a great Winter meal. We just had a nice little snowstorm in Michigan and as I was watching the snow fall I started thinking about making this chili again. It's warm and comforting and ranks right up there as one of my favorite chili recipes!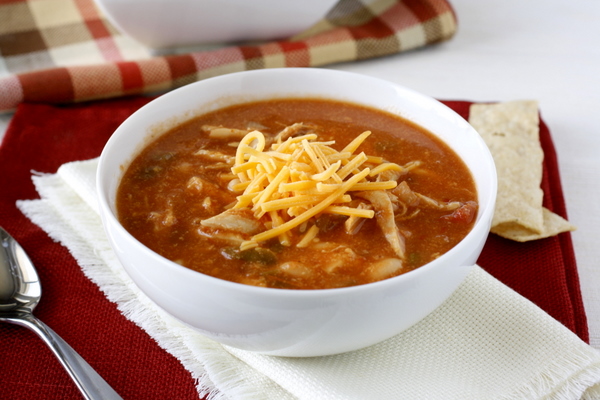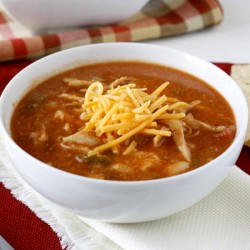 Chicken and White Bean Chili
Ingredients:
2-3 cups cooked chicken
2 cans great northern beans, drained and rinsed
2 jars salsa
2 small cans V8 (5.5 oz each)
3-4 cups chicken stock
2 Tbsp Worcestershire sauce
2 Tbsp soy sauce
cumin, to taste (If unsure, start with 1/4 tsp)
Adobo seasoning or chipotle seasoning, to taste (if unsure, start with 1/4 tsp)
8 oz shredded cheedar cheese
Directions:
Put all ingredients except cheese in a crockpot. Heat on low for 4 hours. Before serving, add in the cheese and stir until melted.