Doesn't this Mexican chocolate loaf look impressive? Well, good news – it's not as hard to make as it looks.

I actually made this quite awhile ago, and I have no idea why it took me this long to share the recipe with you. The recipe comes from Food Network Magazine, and it was a huge hit with the people I shared it with. It consists of a basic sweet roll dough (which tastes great by itself!) and a spicy chocolate filling. The combination works perfectly together and the end result is a nice rich pastry that isn't overly sweet. It definitely has a more adult taste than most chocolate filled pastries. And please don't be intimidated by the fancy presentation. The pretty braided look is achieved just by cutting the dough in half lengthwise and twisting the two halves together. It's not nearly as hard as it looks.

Let me know if you try this one – we loved it!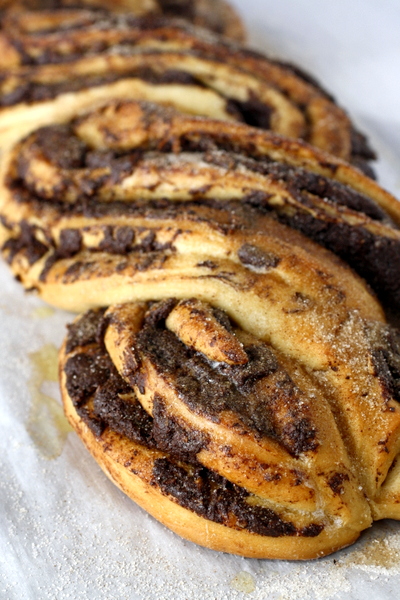 Ingredients:

For the dough:
1/2 cup water
1/2 cup whole milk
1 1/4 -ounce packet active dry yeast (2 1/4 teaspoons)
1/4 cup sugar
4 tablespoons unsalted butter, melted and slightly cooled, plus more for brushing
1 large egg yolk
1 1/2 teaspoons vanilla extract
2 3/4 cups all-purpose flour, plus more for dusting
3/4 teaspoon salt

For the filling:
6 tablespoons unsalted butter, at room temperature
1/3 cup sliced blanched almonds
1/3 cup sugar
1/2 cup unsweetened cocoa powder
2 large egg yolks
1 1/2 teaspoons ground cinnamon
1 teaspoon all-purpose flour, plus more for dusting
Large pinch of cayenne pepper

For the topping:
1/4 cup sugar
1/2 teaspoon ground cinnamon
4 tablespoons unsalted butter, melted

Directions:

Prepare the dough: Warm 1/2 cup water and the milk in a saucepan over low heat until a thermometer registers 100 degrees F to 110 degrees F. Remove from the heat and sprinkle the yeast on top, then sprinkle with a pinch of the sugar; set aside, undisturbed, until foamy, about 5 minutes.

Whisk the melted butter, egg yolk and vanilla into the yeast mixture until combined. In a large bowl, whisk the flour, the remaining sugar, the salt and nutmeg. Make a well in the center, then add the yeast mixture and stir with a wooden spoon to make a thick and slightly sticky dough. Turn out onto a floured surface and knead until soft and elastic, about 6 minutes. Shape into a ball.

Brush a large bowl with butter. Add the dough, turning to coat lightly with the butter. Cover with plastic wrap and let rise at room temperature until the dough is doubled in size, about 1 hour, 15 minutes.

Turn the dough out of the bowl and knead briefly to release excess air; re-form into a ball and return to the bowl. Lightly butter a large piece of plastic wrap and lay it directly on the surface of the dough. Cover the bowl tightly with plastic wrap and refrigerate at least 4 hours or overnight.

Prepare the filling: Line a baking sheet with parchment paper. Combine the butter, almonds, sugar, cocoa powder, egg yolks, cinnamon, flour and cayenne in a food processor and pulse to make a paste.

On a floured surface, roll out the dough into a 10-by-18-inch rectangle. Spread the cocoa mixture over the dough, leaving a 1-inch border on one of the long sides. Brush the clean border with water. Tightly roll the dough into an 18-inch log, rolling toward the clean border; pinch the seam to seal. Place seam-side down on the baking sheet; refrigerate until firm, 30 minutes.

Slide the parchment off the baking sheet and cut the log in half lengthwise with a chef's knife. Slide back onto the baking sheet and pinch one end together with the cut sides facing in. Twist the two halves together, crossing one over the other a few times. Pinch the end together, then tuck both pinched ends under the loaf slightly. Cover the loaf loosely with plastic wrap and set aside in a warm place until plump, 30 minutes.

Preheat the oven to 350 degrees F. Uncover the loaf and bake, rotating the baking sheet halfway through, until golden brown (a thermometer inserted into the middle should register 170 degrees F to 175 degrees F), 30 to 35 minutes.

Make the topping: Combine the sugar and cinnamon in a bowl. Brush the warm loaf with the melted butter and sprinkle with some of the cinnamon sugar. Let cool, then sprinkle with more cinnamon sugar.

from Food Network Magazine