Watermelon Sherbet
This watermelon sherbet is easy to make and is a cool and refreshing summer treat!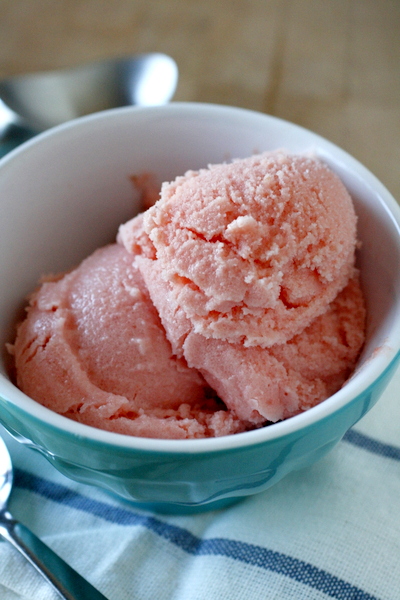 You are going to love this recipe for watermelon sherbet! In our family we tend to have a watermelon obsession. We can eat A LOT of watermelon. 🙂 We can go through one of those giant watermelons from Costco in just a couple days and Zeke asks all throughout the year if it's watermelon season yet. I think it's safe to say we REALLY love watermelon.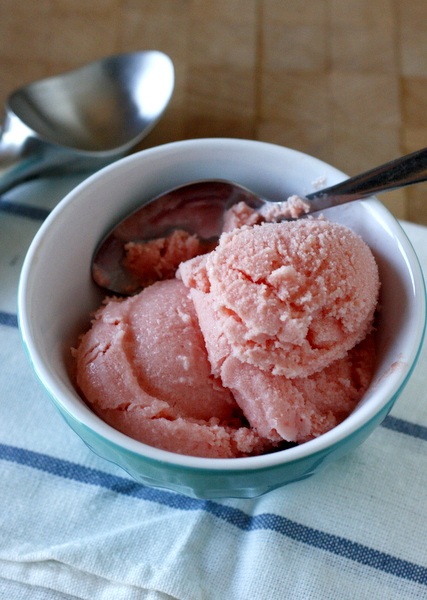 Zeke found this recipe for watermelon sherbet in one of my cooking magazines and immediately told me that we had to make it! I agreed, and we just so happened to have lots of watermelon in our fridge that day! Even better, it wasn't a great watermelon. I would hate to sacrifice perfectly sweet and crisp watermelon to be made into sherbet, but thankfully this watermelon was just slightly overripe and the tiniest bit mushy. Perfect to be blended up into another recipe!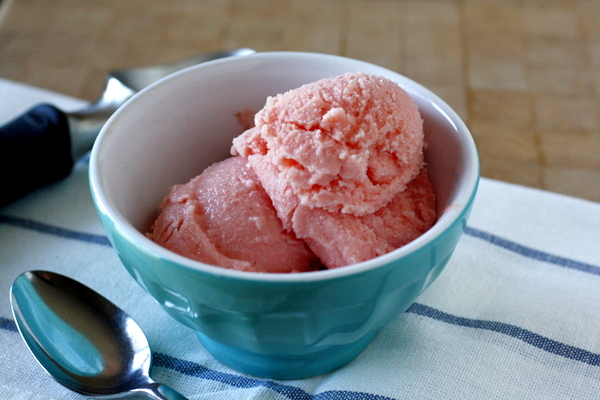 This watermelon sherbet is so good! It is sweet and refreshing and perfect for a hot summer day. There are only a few ingredients so the watermelon flavor really shines through. Actually I didn't tell my 4 year old what I had made, just handed him a bowl, and his first reaction was "hey, this tastes like watermelon!" 🙂
This recipe is incredibly easy to make. You have to plan ahead to have time to freeze the watermelon and the finished sherbet, but the hands on time only takes about 5 minutes. The sweetened condensed milk adds just the right amount of sweetness and makes the end result nice and creamy. And the lime juice gives it a great depth of flavor and keeps the sherbet from being overly sweet.
In short, we LOVED this recipe and I can't wait to make it again. It's perfect for a watermelon that's past it's prime, and it so easy to make that I'm guessing it will be a staple in our freezer this summer!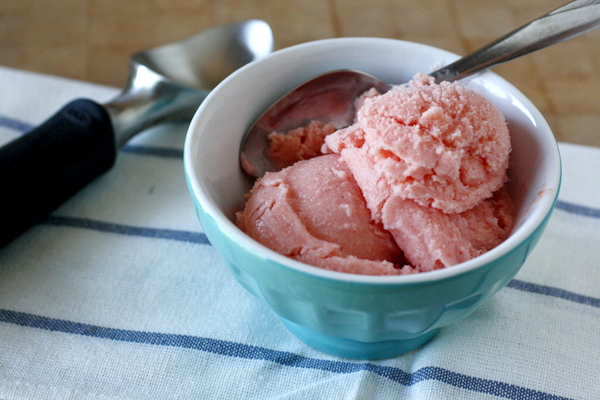 Yield: 12 Servings
Watermelon Sherbet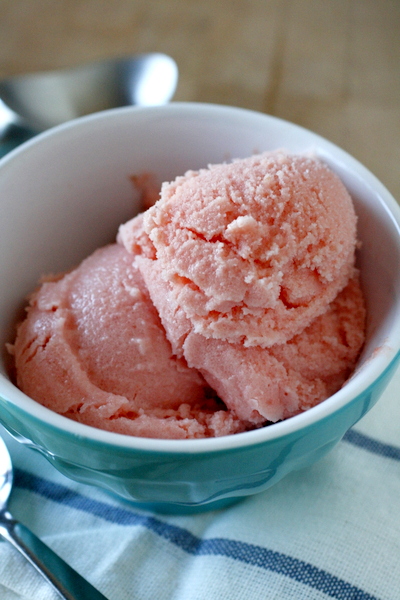 This watermelon sherbet is easy to make and is a cool and refreshing summer treat!
Total Time
8 hours
10 minutes
Ingredients
6¼ cups cubed seedless watermelon
1 (14 ounce) can sweetened condensed milk
⅓ cup lime juice
¼ teaspoon salt
Instructions
Place watermelon on a large rimmed baking sheet. Freeze until frozen, about 4 hours or overnight.
Puree the frozen watermelon, condensed milk, lime juice and salt in a food processor, in batches if necessary, until smooth, 2 to 3 minutes. Transfer the mixture to a large sealable container. Cover and freeze until firm, about 4 hours.