Blueberry Pudding Dessert
I am so excited to share this blueberry pudding dessert with you today! This recipe is an old family favorite from Mike's family and it has developed an almost legendary status in family circles. I was lucky enough to be given the recipe at my bridal shower (it is Mike's favorite dessert!) and have made it quite a few times since we've been married. I actually made it just a few weeks ago to celebrate my father-in-law's birthday (it's his favorite dessert as well), and decided to actually take the time to snap some photos. I took this picture of the leftovers after everyone had left, which means you get to see one of the semi-messy end pieces. 🙂
The dessert has a nilla wafer crust, a vanilla pudding/cream cheese layer, and a blueberry topping.  Then you spread some cool whip over the whole thing, sprinkle the top with more nilla wafer crumbs, and try not to eat all of it in one sitting. 🙂 It's one of those classic pudding desserts that everyone loves and nobody ever gets tired of. We love blueberries in our family, but I'm pretty sure my mother-in-law has also successfully made it with strawberries. Whatever kind of berry you use, you are sure to love this dessert!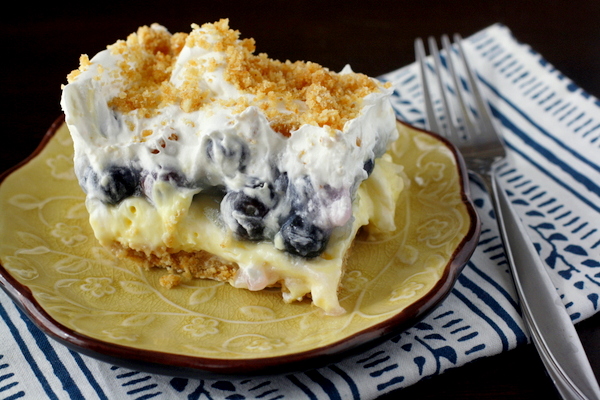 P.S. Mike's second favorite dessert from his grandma growing up consisted of pouring generous helpings of this Blueberry Sauce on her waffles or pancakes.  Luckily he said I nailed it when I made it the first time for him!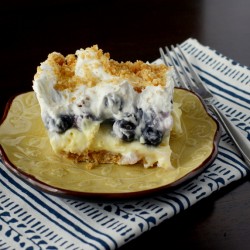 Blueberry Pudding Dessert
Ingredients:
2 1/2 cups crushed vanilla wafers, divided
1/2 cup butter, melted
2 small boxes of instant vanilla pudding (3 oz each)
2 1/2 cups milk
2 packages of cream cheese, softened (8-oz each)
3 tsp lemon juice
6 cups blueberries
1 1/2 cups water
1 cup sugar
4 Tbsp corn starch
12-oz package of cool whip, thawed
Directions:
Reserve 1/3 cup of the crushed vanilla wafers - set aside. In a small bowl, mix the remaining wafers with the melted butter until well combined. Pat firmly into the bottom of a 9x13 pan. Set aside.
In a large bowl, cream together the pudding mix, milk, cream cheese and lemon juice until well blended and no lumps remain. (*Note: Sometimes it helps to beat the cream cheese first until smooth, then add the rest of the ingredients.) Pour on top of the wafer crust.
In a medium sized saucepan, combine the water, sugar, and cornstarch. Add a few blueberries for color, and cook over medium heat, stirring frequently, until thick and berries have burst. Let cool slightly. Add the blueberries to the sauce, then pour on top of the cream cheese mixture. Refrigerate until the blueberry layer is cool. Spread cool whip on top and sprinkle with reserved wafer crumbs. Refrigerate until ready to serve.