Pumpkin Sugar Cookies with Cinnamon Cream Cheese Frosting
I'm not promising anything, but this may be my last pumpkin recipe of the year. And it might be my favorite. 🙂 I love sugar cookies (well, I pretty much love any cookie with icing on it!), and a pumpkin sugar cookie with cinnamon cream cheese frosting is just so perfect for this time of year. The cookies are super soft without being crumbly, and they are full of pumpkin spice flavor. Cream cheese icing goes perfectly with pumpkin, and this cinnamon spiced version is sweet and creamy and wonderful. I loved these cookies and so did everyone I shared them with. They also freeze well, so make some today and save them for Thanksgiving – you won't be sorry. 🙂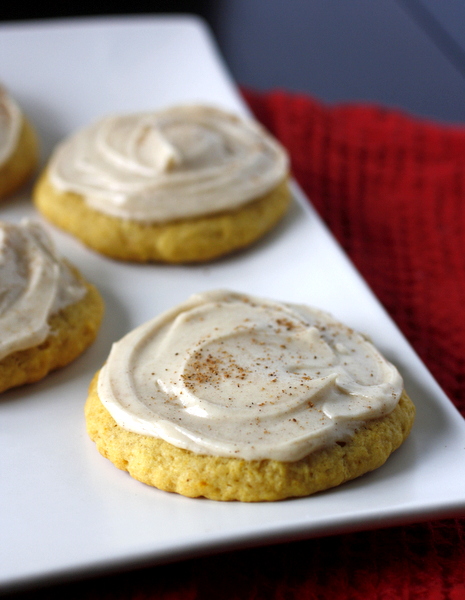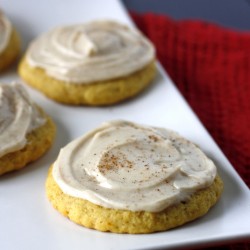 Pumpkin Sugar Cookies with Cinnamon Cream Cheese Frosting
Ingredients:
Cookies:
3 cups all-purpose flour
2 tsp cornstarch
1 tsp baking powder
1/2 tsp baking soda
1/2 tsp salt
1/2 tsp ground cinnamon
1/4 tsp ground nutmeg
1/4 tsp ground ginger
1/2 cup unsalted butter, softened
1/3 cup shortening
1 1/4 cups granulated sugar
2 large egg yolks
2/3 cup canned pumpkin puree
1 tsp vanilla extract
Frosting:
3 oz cream cheese, softened
3 Tbsp butter, softened
3/4 tsp ground cinnamon
1/2 tsp vanilla extract
2 1/2 cups powdered sugar
1 - 1 1/2 Tbsp milk or cream
freshly grated nutmeg, for topping *optional
Directions:
For the cookies:
Preheat oven to 350 degrees. Line baking sheets with parchment paper and set aside.
In a medium sized bowl whisk together the flour, cornstarch, baking powder, baking soda, salt, cinnamon, nutmeg, and ginger.
In the bowl of an electric stand mixer fitted with the paddle attachment, cream together butter, shortening, and sugar until pale and fluffy, 2-3 minutes. Mix in egg yolks one at a time. Mix in pumpkin puree and vanilla extract. With mixer set on low speed, slowly add in dry ingredients and mix until combined.
Scoop dough out and shape into balls. (I used my cookie scoop and figure it was 2-3 Tbsp per ball) Place on prepared baking sheets, about 8 cookies per sheet. Using your fingers, evenly flatten cookies into rounds until they are slightly under 1/2-inch thick. Bake in preheated oven 11 - 12 minutes. Cool on baking sheet several minutes then transfer to a wire rack to cool completely.
For the frosting:
Using an electric mixer, beat together the cream cheese and butter until pale and fluffy. Mix in cinnamon, vanilla extract and powdered sugar. Mix in enough milk or cream to reach desired consistency and mix until smooth and slightly fluffy.
Spread onto the cooled cookies and top with a sprinkle of grated nutmeg.