Cinnamon Roasted Pecans
I've got a wonderful recipe to share with you today – one that has truly stood the test of time. This recipe for cinnamon roasted pecans comes from my grandmother, and she used to make it every year around Christmas. She would give it away as gifts, and everyone always loved it. Even after she moved into an assisted living facility, she insisted on making these. She would head to my mom's house for the afternoon so she could make her pecans to give to all her friends. In my mind, it just doesn't feel like Christmas without them.
The recipe is incredibly simple and very quick to make and your whole house will smell like cinnamon spice as the pecans are baking! Once they are done and coated in a light layer of powdered sugar, you won't be able to stop eating them.
They make great gifts to share with friends or family, so you may want to make a double batch. 🙂
*See all 12 days of Christmas Treats from 2014 here! 🙂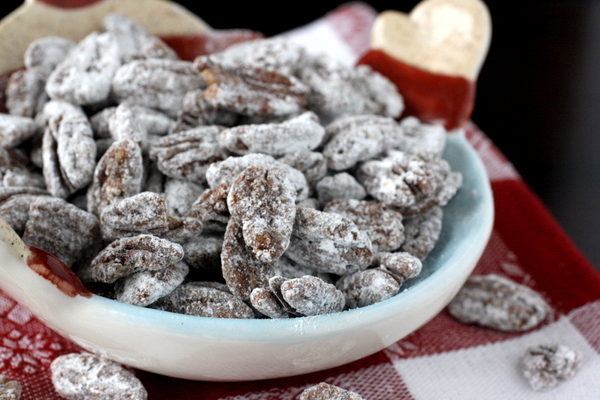 *Check out the delicious treats from previous years!  Peppermint Marshmallows | Candy Cane Biscotti | Double Chocolate Brownie Bites | Cinnamon Sugar Biscotti
P.S. You can see all of my Christmas treat recipes from over the years at this Christmas Cookies tag. Enjoy! And, as always, let me know if you try any and how you liked them.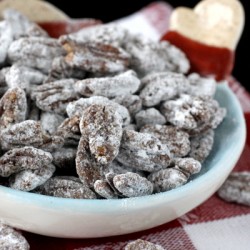 Cinnamon Roasted Pecans
Ingredients:
2 egg whites, unbeaten
2 Tbsp water
3/4 cup sugar
Pinch of salt
1 to 2 Tbsp cinnamon, depending on taste
2 lbs pecans
Directions:
Preheat oven to 325. Line a cookie sheet with parchment paper and set aside.
In a large bowl, mix together the egg whites, water, sugar, salt and cinnamon. Stir in pecans until thoroughly coated. Lift out small amounts with slotted spoon and lay out in a single layer on prepared cookie sheet.
Bake for 8 - 10 minutes, checking often so the edges don't burn. Pecans will be slightly browned and will not be hardened when they are done.
Put them in a shallow pan, sprinkle with powdered sugar, and stir to keep them from sticking together. Cool completely, stirring occasionally. Sprinkle with more powdered sugar if they start to stick together.