Chicken Couscous with Dried Fruit
I've got a great easy meal to share with you today! I made this recipe a few weeks ago when I had some leftover rotisserie chicken to use up.  I was searching through some old cookbooks for a dinner idea, and this recipe jumped out at me. Mike and I both loved it, and it is now in our regular dinner rotation! It is very easy to put together and is something a little out of the ordinary. The cous cous is cooked in chicken broth and perfectly flavored with herbs and spices. The best part though, is all of the wonderful additions that are mixed in with the cous cous. By the time you add chicken, dried fruit, almonds, and cilantro, you end up with an end result that is filling and delicious. The leftovers taste great reheated, and actually, this dish even tastes great at room temperature. The recipe makes a lot, and would be a great dish to bring to a potluck this summer. Enjoy! 🙂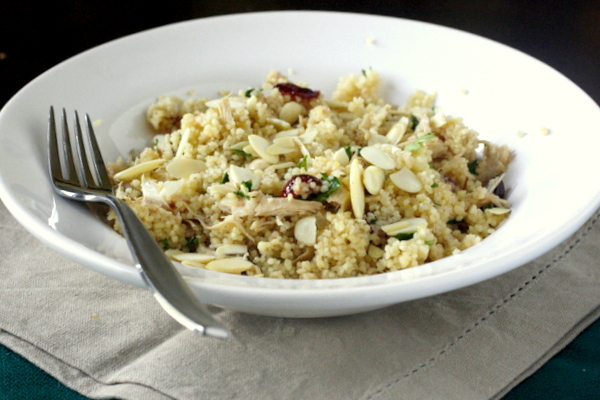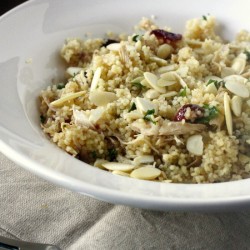 Chicken Couscous with Dried Fruit
Ingredients:
2 lemons
4 Tbs. olive oil
1 small yellow onion, chopped
3 garlic cloves, minced
1 1/2 tsp. ground cumin
3/4 tsp. ground cinnamon
2 cups shredded roast chicken
1 cup chopped mixed dried fruits, such as pitted dates and apricots (*I used craisins)
3 cups chicken stock
2 cups couscous
1/4 cup minced fresh cilantro
1/2 cup sliced almonds, toasted
Directions:
Grate 1 1/2 tsp. zest from the lemons and squeeze 1/4 cup juice. Set aside.
In a large saucepan over medium heat, warm 3 Tbs. of the olive oil. Add the onion and sauté until softened, about 4 minutes. Add the garlic and sauté until the garlic and onion are golden, 1 to 2 minutes. Stir in the cumin and cinnamon, and then mix in the chicken, lemon zest and juice, dried fruits and stock. Bring the mixture to a boil, reduce the heat to medium-low, cover and simmer for 5 minutes to blend the flavors.
Stir in the couscous, re-cover the pan and remove from the heat. Let stand until the liquid is absorbed and the couscous is softened, about 5 minutes. Add the cilantro and the remaining 1 Tbs. olive oil. Toss with a fork to fluff the couscous and distribute the cilantro. Garnish with the almonds and serve. Serves 4.