Pastina Soup
I love that it's finally soup season around here! Don't get me wrong, I love summer, but I have a much easier time making a menu plan and actually sticking to it when I can make a big batch of soup to eat for a couple of days.
When I saw this recipe for pastina soup in a recent issue of Food Network Magazine, I knew I had to try it. It looked like the perfect comforting soup to make for our current cool evenings, and as a bonus, it looked like a soup Zeke would actually eat. 🙂 Thankfully I was right on both counts – we all loved this soup.
I doubled the recipe to make sure I had plenty of leftovers and I'm glad I did! Mike and I ate our portions with plenty of Parmesan cheese the first night and some leftover rotisserie chicken added in the second night. Zeke preferred to eat his plain, but considering the way he ate spoon after spoon of noodles, I think it was a hit. 🙂
This is such an easy soup to make and it has a wonderful flavor from the lemon and thyme – it's sure to be a favorite around here this winter.
And by the way, I don't know about you, but I feel like any soup experience can be enhanced with a delicious bread to go on the side. I highly recommend trying these soft dinner rolls or soft pretzel rolls for that purpose!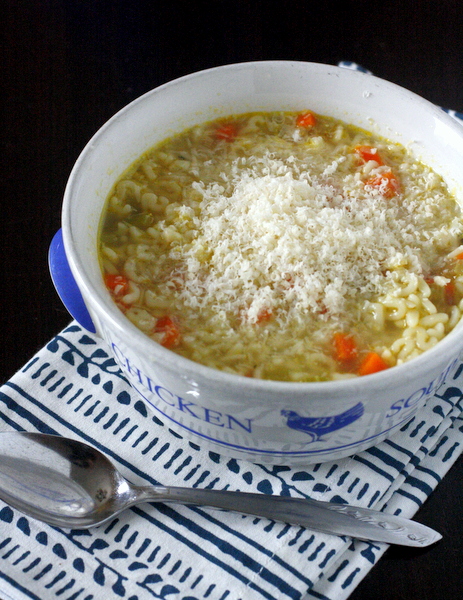 Looking for more soup ideas? There are many absolutely delicious ones on this site, but some of my favorite recipes include baked potato soup, cheeseburger soup, and creamy chicken and wild rice soup!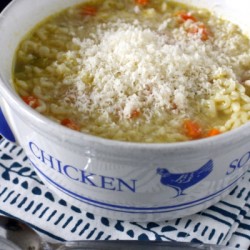 Pastina Soup
Ingredients:
1 Tbsp extra-virgin olive oil
1 stalk celery, finely chopped
1 carrot, finely chopped
2 shallots, minced
3 sprigs thyme
Kosher salt
1 2 -inch piece parmesan cheese rind
1 quart chicken stock, plus a little extra if necessary
1 1/4 cups pastina (*I used tiny alphabet pasta because that's all I could find)
1 cup frozen peas, thawed (*I left these out)
1/2 cup grated parmesan cheese
1 teaspoon grated lemon zest (optional)
Directions:
Heat the olive oil in a medium saucepan over medium heat.
Add the celery, carrot and shallots and cook, stirring often, about 5 minutes, or until softened. Add the thyme, 1/4 teaspoon salt, the parmesan rind, chicken stock and 1 cup water.
Bring to a simmer and cook for 10 minutes.
Add the pasta and stir with a wooden spoon to prevent it from sticking to the pan.
Return to a simmer and cook 8 to 10 minutes more, or until the pasta is cooked and the liquid is slightly thickened. Stir in a little extra broth if the soup is too thick.
Remove the thyme sprigs and parmesan rind.
Stir in the peas and heat until warmed through.
Ladle the soup into bowls and top with grated parmesan and a pinch of lemon zest.
from Food Network Magazine