Gingerbread Cupcakes with Whipped Vanilla Buttercream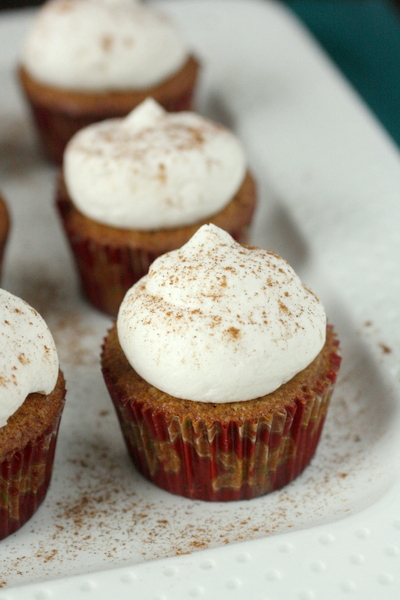 If you like gingerbread, you will love these gingerbread cupcakes! They are moist and cake-like and full of warm spices and a perfect gingerbread taste. They don't have an overly strong or dark gingerbread flavor, but have just the right amount of molasses and spices to make them taste like gingerbread without being overwhelming. I love making cupcakes for built-in portion control (you'll need it with these – they're good!), but also because they are just so cute! Who can resist a moist little cake with a pretty mound of cinnamon topped frosting on top?? These gingerbread cupcakes are topped with a whipped vanilla buttercream – a traditional buttercream that's made with cream and whipped extra long to make it a little more light and fluffy than usual. The rich and creamy icing pairs perfectly with the spiced cupcakes and the combination is delicious. You need to try these this holiday season. 🙂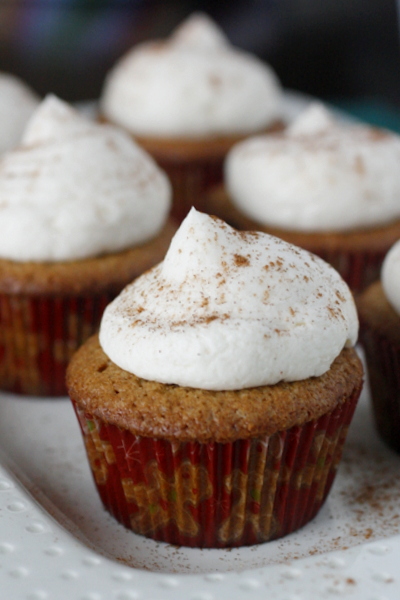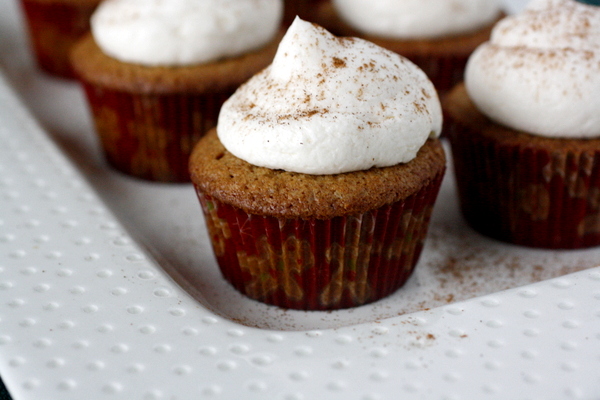 *Note: This is my favorite set of cupcake frosting tips – I used the large round one to pipe the frosting onto these cupcakes.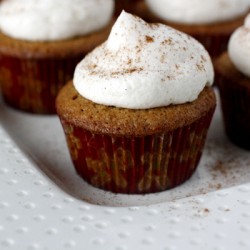 Gingerbread Cupcakes with Whipped Vanilla Buttercream
Yield: Makes 20 Cupcakes
Prep Time: 10 minutes
Cook Time: 25 minutes
Total Time: 35 minutes
Ingredients:
Cupcakes:
1 1/2 cups all-purpose flour
1 1/2 Tbsp ground ginger
2 tsp ground cinnamon
1/4 tsp ground cloves
1/2 tsp ground nutmeg
1/2 tsp salt
1 1/2 cups unsalted butter, at room temperature
1 1/2 cups granulated sugar
3 Tbsp molasses
4 large eggs
2 tsp vanilla extract
Whipped Vanilla Buttercream:
1 cup (2 sticks) butter, softened
2 tsp Pure Vanilla Extract
4 cups powdered sugar
Pinch of salt
2-4 Tbsp heavy whipping cream
cinnamon, for topping
Directions:
Place oven rack on lower-middle position and preheat to 350 degrees F. Line muffin pan with cupcake liners or spray with cooking spray. Set aside.
In a medium sized bowl, whisk together the flour, ginger, cinnamon, cloves, nutmeg and salt.
In a large bowl cream together the butter and sugar until light and fluffy, about 3 minutes. Add in the molasses and beat until incorporated. Beat in eggs one at a time then beat in vanilla. Add flour mixture and mix on low speed until just combined.
Divide the batter evenly among the muffin cups, filling each about 3/4 full. Bake 30 minutes, or until a toothpick inserted in a center cupcake comes out clean or with moist crumbs. Let cupcakes cool in the pan for 10 minutes, then transfer to a wire rack to cool completely.
Make the frosting: In a large bowl, beat butter on medium-high speed until light and fluffy, about 3 minutes. Add vanilla and, with mixer on low, slowly add in powdered sugar, cream, and salt, scraping down the sides of the bowl as needed. Once incorporated, whip frosting for at least 3 minutes on medium high to high. If frosting is too thick, gradually beat in additional cream. Pipe on top of cooled cupcakes and sprinkle with cinnamon.
*Note: I used the large round tip from this Ateco Set to pipe the frosting on.
This post was sponsored by the United Dairy Industry of Michigan, but as always, all opinions are my own. I personally love working for UDIM because Milk is a local food, produced by hardworking Michigan farm families. That means cheese, yogurt and other dairy foods are local too! Follow UDIM on Facebook, Pinterest, YouTube, Instagram, and Twitter to find out why Milk Means More.