Crock Pot Shredded Beef Tacos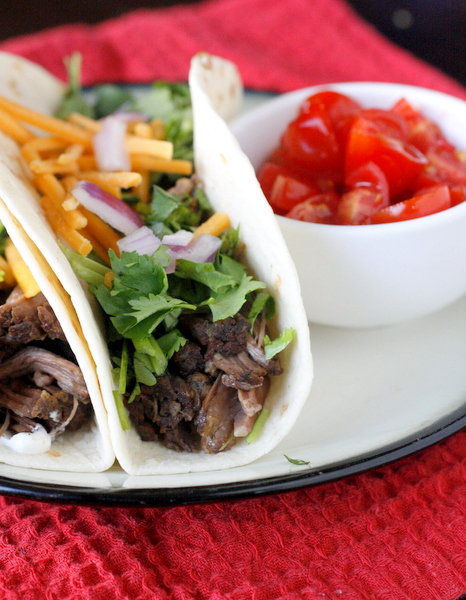 Meet my new favorite recipe! You are going to love these Crock Pot Shredded Beef Tacos. They are so simple to make, only take a few ingredients, and taste amazing! The beef is cooked in the slow cooker, which means at the end of the day all you have to do is gather your toppings, assemble the tacos, and eat. 🙂 Since it's cooked all day in a salsa verde sauce, the beef is incredibly moist and full of flavor. It definitely falls apart as you shred it, and with all the juices in the crock pot it will even keep for awhile on  the "warm" setting without getting dried out.  We served our tacos in flour tortillas with plenty of cilantro, shredded cheese and sour cream – so good!! You could also use this meat for burritos or quesadillas, or even taco salads. I love that this recipe takes tacos to a new level – so simple, and so delicious. 🙂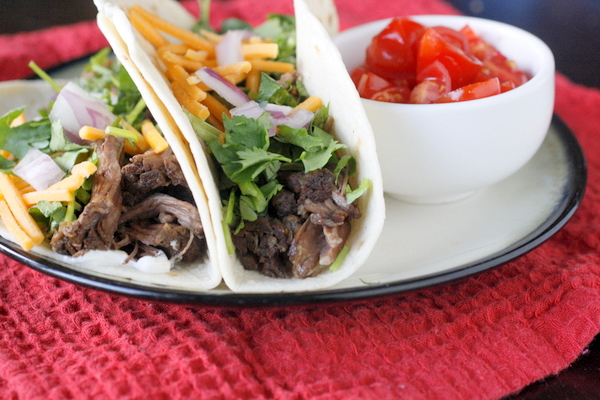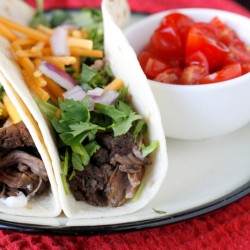 Crock Pot Shredded Beef Tacos
Yield: Serves 4-6
Prep Time: 10 minutes
Cook Time: 6 hours
Total Time: 6 hours 10 minutes
This easy slow cooker recipe makes delicious shredded beef for tacos, quesadillas, and more!
Ingredients:
2 Tablespoons vegetable oil
2 lbs. beef chuck roast, fat trimmed
1- 16 oz. jar salsa verde
1 medium yellow onion, chopped
3 garlic cloves, minced
1 teaspoon cumin
1/4 teaspoon salt
1/4 teaspoon black pepper
Tortillas, for serving
Assorted toppings, for serving (*We liked shredded cheese, cilantro, sour cream, and tomatoes)
Directions:
In a large pan, heat the vegetable oil over medium high heat. Sprinkle salt and pepper on all sides of the roast add to the pan. Cook until brown on each side, about 2 minutes per side.
Place the roast in a 5-qt. slow cooker. In a large mixing bowl combine the salsa verde, onion, garlic, cumin and salt and pepper and stir to combine. Pour the salsa mixture over the beef making sure that the roast is covered. Cook on low for 6-8 hours or on high for 3-4 hours, or until fork tender. Towards the end of the cooking time, use two forks to shred the beef and mix it back into the salsa making sure all of the beef is under the salsa.
Serve beef with the tortillas and toppings.