Marinated Vegetable Pasta Salad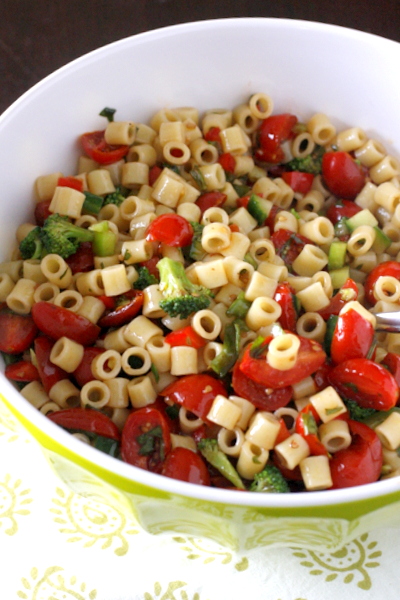 You are going to love this marinated vegetable pasta salad! It is a simple and classic summer salad that I can't get enough of. This salad is chock full of veggies which add delicious crunch and flavor. The best part, however, is the super simple dressing! The dressing is made by combining tomatoes with oil and vinegar and spices and letting them sit until they create their own delicious marinade. You then add the tomatoes with their liquid to the salad and let the pasta and veggies soak up all the yummy dressing. The end result is going to be your new favorite summer salad. 🙂 This marinated vegetable pasta salad is perfect for pot lucks and summer picnics – you will love it!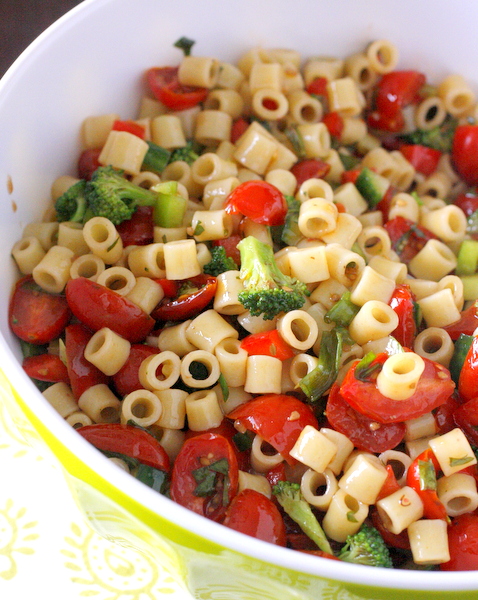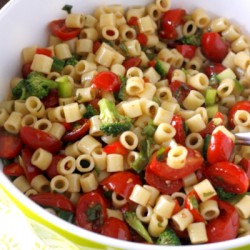 Marinated Vegetable Pasta Salad
Ingredients:
For the tomatoes:
1/4 cup extra virgin olive oil
1 tablespoons balsamic vinegar
1 tablespoons sugar
1/2 teaspoon salt
freshly ground pepper to taste
1/8 cup parsley, chopped
5 basil leaves, sliced very thinly
pinch of ground thyme
1 cloves garlic, minced
1 pounds bite size tomatoes, halved
For the salad:
8 ounces salad macaroni
1 cup tiny broccoli florets
1/2 cup small diced cucumber
1/4 cup finely diced red bell pepper
1/4 cup finely diced green bell pepper
1/4 cup finely diced red onion
1 cup marinated tomatoes, or to taste
1 cup marinade liquid, or to taste
1/2 teaspoon salt, adjust to taste
1/4 teaspoon freshly ground pepper, adjust to taste
Directions:
To make the tomatoes: Combine everything except the tomatoes and whisk together in a large bowl. Add the tomatoes and toss well. Allow the tomatoes to marinate at room temperature for a few hours.
To make the salad: Cook the pasta according to the directions on the package. Just before the noodles are done cooking, add the broccoli to the pot. Let the broccoli boil for about 30 seconds and then drain everything into a large colander. Rinse well with cold water.
Place the drained pasta, broccoli, cucumber, bell peppers, onion, tomatoes, and marinade liquid in a large bowl. Toss well to coat thoroughly. Sprinkle with salt and pepper, stir again and taste. Adjust seasonings as needed. Cover and refrigerate until ready to eat. Stir again before serving. Enjoy!
*Note: You  may not need all of the marinade liquid, so start small and add more as needed!