Double Chocolate M&M Brownies
These double chocolate M&M brownies are soft, fudgy, and super easy to make!
I probably should have shared these double chocolate M&M Brownies with you last week so you could make them for your labor day festivities. Sorry about that – sometimes my lack of organizational skills gets the better of me.
But… these would make fantastic after school treats for those of you with kids! Or really great anytime treats for pretty much anybody who loves chocolate. Basically what I'm saying is that you can't go wrong with these M&M brownies.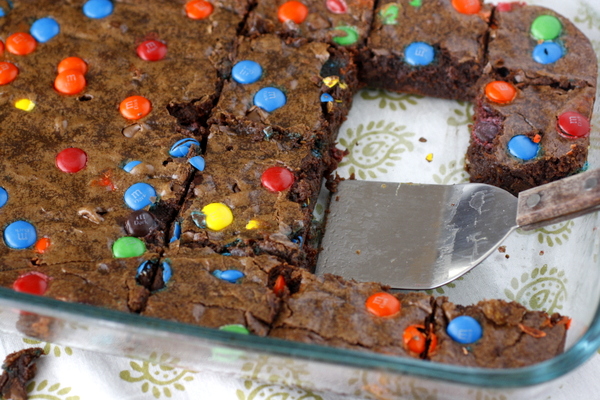 They are incredibly soft and fudgy, and who doesn't want a brownie filled with both chocolate chips and M&M's?? They were a hit with everyone I shared them with, and dangerously easy to make. If you like brownies and M&M's, you've got to try these.
P.S. I also made a white chocolate chip version that was pretty amazing as well!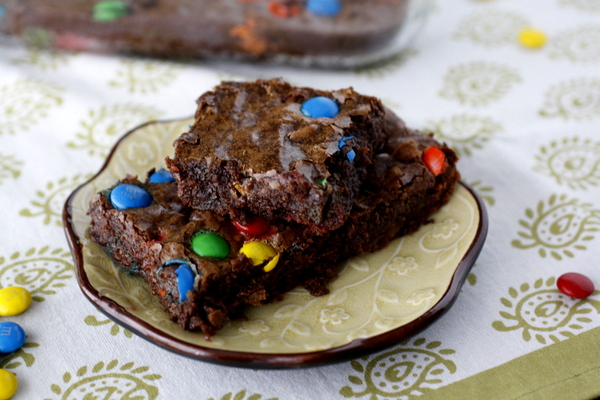 If you're looking for more great brownie recipes, I'd recommend considering these chewy peanut butter brownies, peanut butter pretzel brownies, cream cheese brownies, or cosmic brownies.  And of course I wouldn't do you any favors if I failed to mention these chewy brownies (aka The Best Brownies I've Ever Eaten)!
Double Chocolate M&M Brownies
Yield: Makes 20-24 brownies
Prep Time: 10 minutes
Cook Time: 30 minutes
Total Time: 40 minutes
These double chocolate M&M brownies are soft, fudgy, and super easy to make!
Ingredients:
1 12-ounce bag semi-sweet chocolate chips
1 cup butter (2 sticks)
1 1/2 cups sugar
1 teaspoon vanilla
4 large eggs
1 1/2 cups flour
1/2 teaspoon salt
3/4 cup M&M's, divided
1/2 cup milk chocolate chips (dark chocolate would be good too!)
Directions:
Preheat oven to 350 degrees.
Melt butter and 12 oz bag of chocolate chips in the microwave.
In the same bowl, blend in the sugar and vanilla. Then add eggs, blending fully one at a time. Add flour and salt and beat until air bubbles form in the batter. Stir in 1/2 cup of M&M's and the remaining 1/2 cup chocolate chips.
Pour into a greased 9 X 13-inch pan. Sprinkle remaining M&M's on top. Bake for 20 minutes.
Turn heat down to 325 degrees and bake for 10 more minutes or until brownies are done.