Pretzel Rolls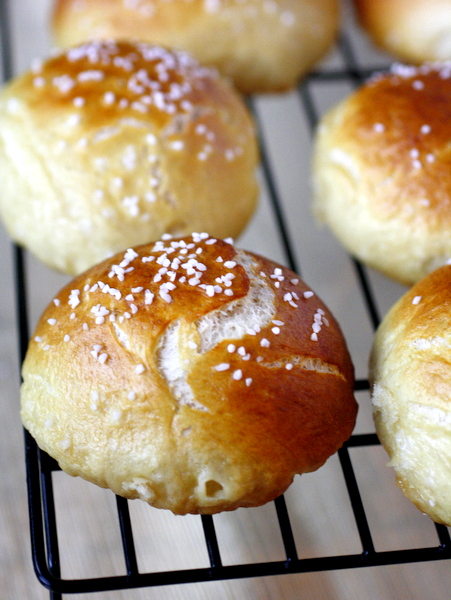 I am SO excited to share this recipe with you today! I have made these pretzel rolls more times than I can count, and I finally took the time to take a picture of them and post the recipe.
If you like to make bread at home, you will LOVE this recipe. We devour these rolls, and a batch never lasts long in our house. We eat them by themselves, served with soup, or with lunch meat as a sandwich. But honestly, my favorite way is to snatch one off the baking sheet when it's barely cool enough to touch. Yum!!
The recipe actually comes from the pretzel dog recipe I posted a few years ago. The pretzel dogs were so good that I decided to try the dough on its own and make pretzel rolls. And I'm so glad I did!
If you're intimidated by homemade pretzels, don't be. It is just a simple bread recipe with an extra step. You form the dough into rolls and boil them in baking soda and water, which is what gives them the characteristic pretzel flavor. I admit, the extra step is a little time consuming, but trust me when I tell you that these rolls are completely worth it.
I really hope you try these – we love them!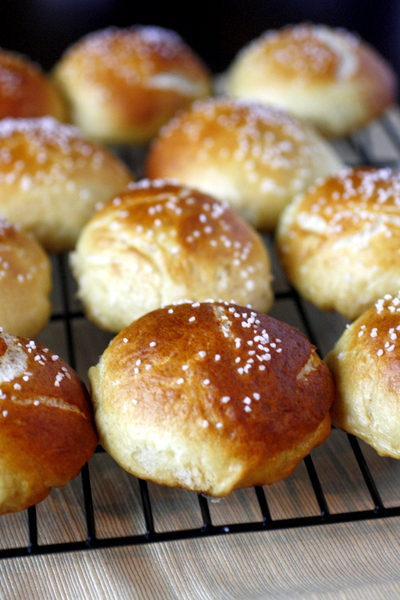 And while you're at it, make sure to consider making these fantastic recipes as well: Homemade Soft Pretzels : Soft Pretzel Bites : Ham and Cheddar Stuffed Pretzel Calzones
*Note: I can never find pretzel salt at my local grocery store. I was lucky enough to have a friend give me some, but if you're looking to buy some, try this version from amazon. I'm planning to buy some as soon as I run out of my current stash. You can also use coarse sea salt, but it doesn't work quite as well.
Pretzel Rolls
Ingredients:
1 1/2 cups warm (110 to 115 degrees F) water
1 Tbsp granulated sugar
2 tsp kosher salt
1 package (2 1/4 tsp) active dry yeast
4 1/2 cups all-purpose flour
1/4 cup unsalted butter, melted
10 cups water
2/3 cup baking soda
Pretzel Salt (or coarse sea salt), for sprinkling
Directions:
Combine the water, sugar and yeast in the bowl of a stand mixer. Let sit for 5 minutes or until the mixture begins to foam.
Add the flour, salt, and butter. Mix with the dough hook on low speed until well combined. Change to medium speed and knead until the dough is smooth and pulls away from the side of the bowl, approximately 4 to 5 minutes. Transfer the dough to a clean, lightly oiled bowl. Cover and let rise for about 1 hour, or until the dough has doubled in size.
Separate the dough into 15 equal pieces. Form the dough into rolls and arrange on a lightly floured surface about an inch apart and cover with lightly oiled plastic wrap. Let the rolls rest for 30 minutes. In the meantime, preheat the oven to 425° and lightly oil a baking sheet.
In a large stockpot, bring the cold water to a rolling boil and add the baking soda. Drop two rolls into the boiling water and boil for 30 seconds, turning once. Carefully remove with a slotted spoon and transfer to the prepared baking sheet, being careful to let the excess water drain off into the pot. Sprinkle lightly with salt. Repeat with the remaining rolls.
Bake the rolls for 8-10 minutes or until golden brown. Let rolls cool on the baking sheets for about 5 minutes, then transfer them to a cooling rack. Serve warm, or at room temperature.