Ham and Cheddar Stuffed Pretzel Calzones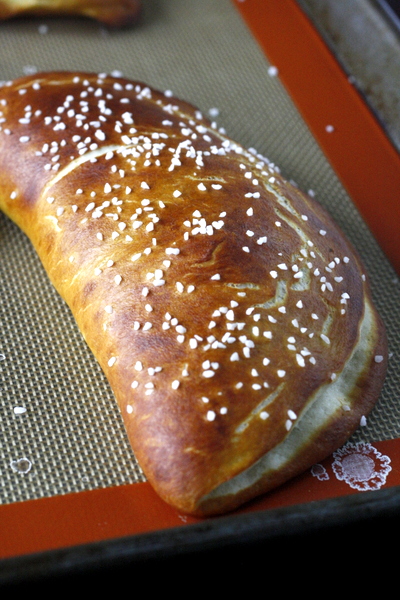 Have you ever heard of a pretzel calzone? If not, you are in for a treat! This delicious recipe has salty ham, melty cheese, and freshly roasted broccoli all folded up inside of a pretzel! I used my favorite recipe for pretzel rolls, which pretty much ensures that these calzones taste like giant soft pretzels. Yum! 🙂 I split the dough into 8 pieces, rolled each piece into a circle, and filled each calzone with tasty fillings. As I said above, I used ham, cheese and roasted broccoli, but you could use pretty much anything. After the calzones are filled and sealed, you give each one a boiling baking soda bath and top them with pretzel salt, just like traditional soft pretzels. After being baked, the calzones end up being soft, puffy, just a little bit crispy, and completely delicious. I hope you try these! Don't be intimidated by making your own pretzel dough – I promise, it's easier than it looks, and these pretzel calzones are well worth the work!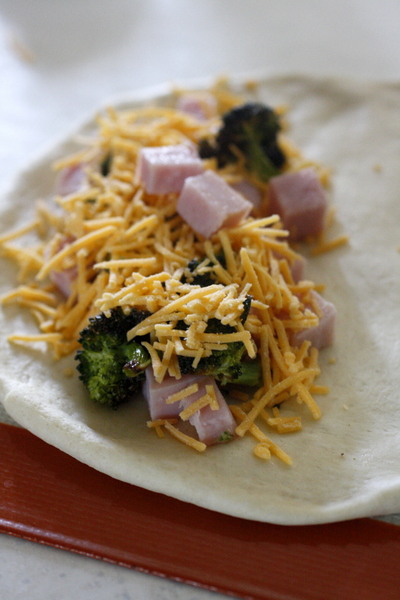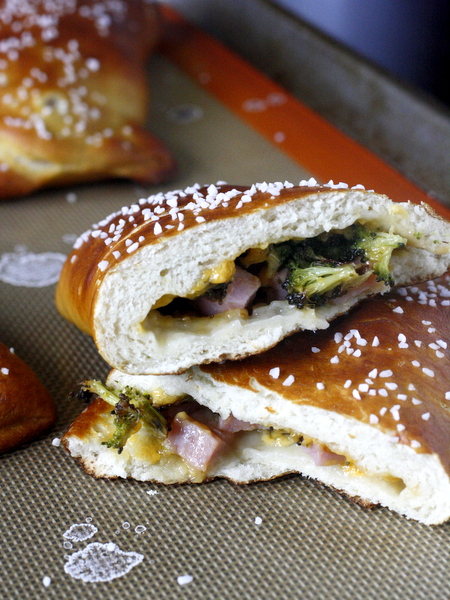 In case you were wondering, some more of my favorite soft pretzel recipes include Homemade Soft Pretzels, Soft Pretzel Bites, and Homemade Pretzel Dogs.  Try them out and let me know what you think!
Ham and Cheddar Stuffed Pretzel Calzones
Ingredients:
1 1/2 cups warm (110 to 115 degrees F) water
1 Tbsp granulated sugar
2 tsp kosher salt
1 package (2 1/4 tsp) active dry yeast
4 1/2 cups all-purpose flour
1/4 cup unsalted butter, melted
1 bunch broccoli, heads trimmed and cut into smaller heads
2 tablespoons olive oil
salt and pepper
2 cups shredded sharp cheddar
1 1/2 cups chopped deli ham
10 cups water
2/3 cup baking soda
1 large egg yolk mixed with 1 tablespoon water
kosher or pretzel salt for topping calzones
Directions:
Combine the water, sugar and yeast in the bowl of a stand mixer. Let sit for 5 minutes or until the mixture begins to foam.
Add the flour, salt, and butter. Mix with the dough hook on low speed until well combined. Change to medium speed and knead until the dough is smooth and pulls away from the side of the bowl, approximately 4 to 5 minutes. Transfer the dough to a clean, lightly oiled bowl. Cover and let rise for about 1 hour, or until the dough has doubled in size.
Meanwhile, roast the broccoli: Preheat oven to 400 degrees F. Toss broccoli with olive oil, salt and pepper and place in a roasting pan. Roast until lightly brown and slightly crunchy, about 20-30 minutes. Remove from oven and set aside to cool. Keep oven on at 400 degrees F. Line two baking sheets with parchment paper and set aside.
When dough is nearly doubled, prepare the water bath: Bring water and baking soda to a boil in a large stockpot. When dough is doubled, remove from bowl and place on a lightly floured surface. Divide dough into 8 equal pieces and roll each piece into a ball. Flatten each ball into an 8-inch circle. Place some cheddar, then some ham, then some broccoli in the center. Fold one end of the circle over to the other end to form a half moon; pinch ends tightly to seal. Repeat with each piece of dough.
Using a slotted spoon, carefully lower one calzone at a time into hot water bath and boil for 30 seconds, flipping over halfway through. Remove from water bath and place on prepared baking sheets. Repeat with each calzone. Brush calzones with egg wash and sprinkle with salt. Bake 12-15 minutes or until calzones are a deep golden brown. Remove from oven and cool slightly before serving.