Dark Chocolate Orange Biscotti
These dark chocolate orange biscotti are full of flavor and perfect for dipping in a cup of tea or coffee!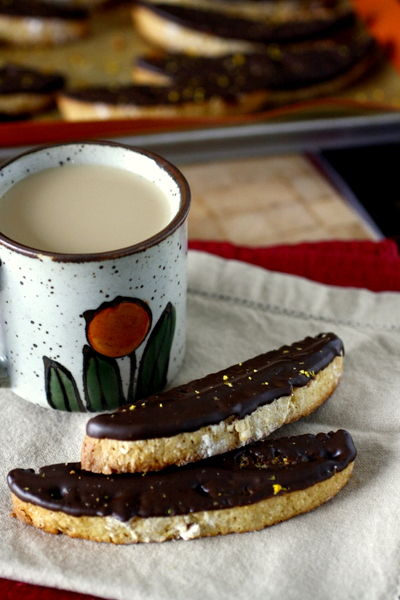 It certainly doesn't feel like Christmas around here if I don't try a new biscotti recipe! Biscotti is a family Christmas tradition started by my grandma and I try to do my part by making as many different varieties of biscotti as I can. 🙂 Judge for yourself, but I think I'm doing a pretty good job. 😉
Candy Cane Biscotti | Chocolate Chip Biscotti | Turtle Biscotti | Cinnamon Sugar Biscotti | Double Chocolate Biscotti | Chocolate Peppermint Biscotti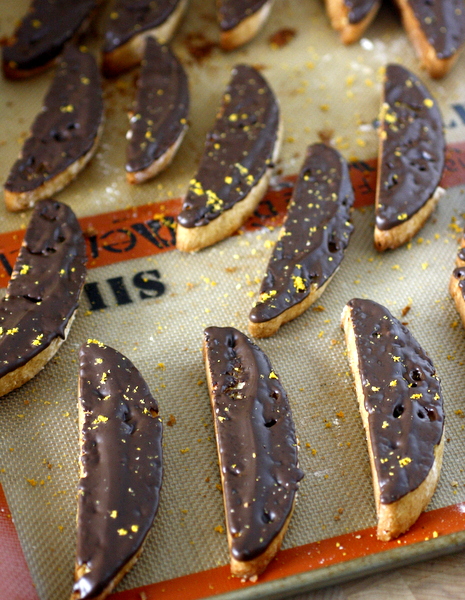 But back to these dark chocolate orange biscotti. You are definitely going to want to try these! They are so full of flavor and they look impressive enough to stand out on a cookie tray or give as gifts. Or if you're anything like me, they're perfect for hoarding in your freezer for your daily afternoon cup of coffee. 🙂
If you're not overly familiar with biscotti, it really isn't anything too complicated. The name biscotti means twice baked, meaning these cookies are baked twice instead of once. You make a simple dough, form it into a log and bake until firm. Then once it cools slightly you cut the log into 1-inch cookies, turn them on their side and bake again. That's what gives them their characteristically crunchy texture.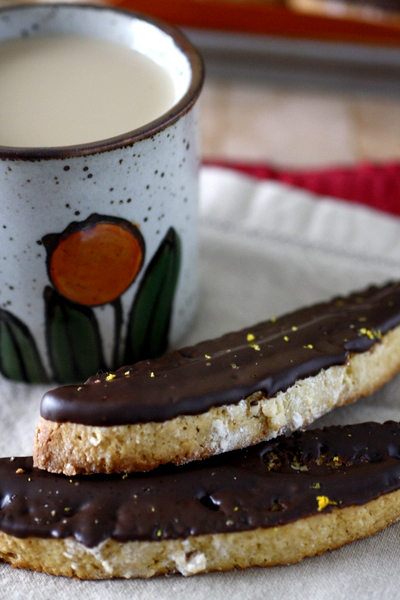 The wonderful thing about making biscotti yourself is that you can control how hard and crunchy they are! A lot of people think they don't like biscotti because all they've tried is the standard prepackaged type you can buy in any coffee shop. Sometimes those seem like they are crunchy enough to break a tooth! These are not those. 🙂
I baked these biscotti for the recommended time of 8 minutes per side and they turned out perfect – crunchy on the edges but still slightly soft on the inside. But if you like yours crunchier feel free to add a minute or two per side until they're the way you like them. Keep in mind, though, that they will continue to harden as they cool.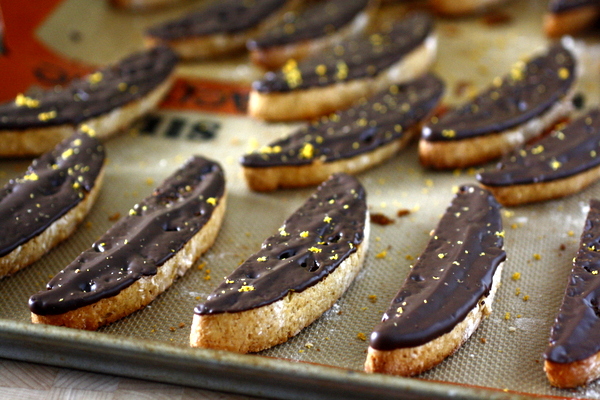 The orange flavor of the biscotti comes from orange zest and fresh orange juice and is delicious. Just a hint of orange without being over the top. And of course the dark chocolate on top is the perfect addition. You seriously cannot go wrong by adding dark chocolate to pretty much any cookie. 🙂
Over the years I've turned my self-proclaimed biscotti hating husband into a convert. He loved these, and the kids did too! I actually offered them the choice of straight chocolate or a cookie, and they all said the cookie was better. High praise indeed. 😉 I hope you try these this Christmas and enjoy them as much as we did!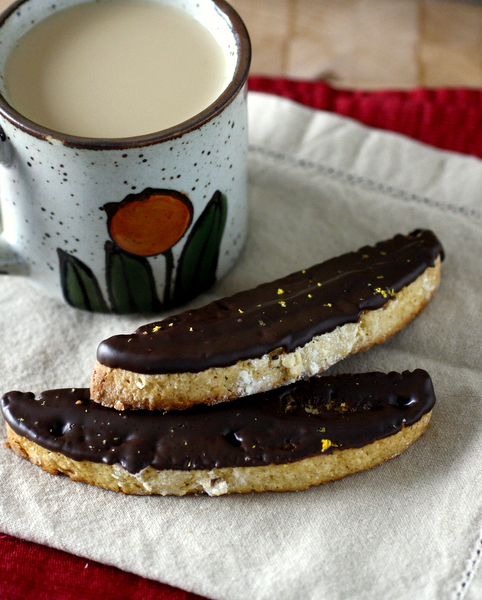 Yield: Makes 18 cookies
Dark Chocolate Orange Biscotti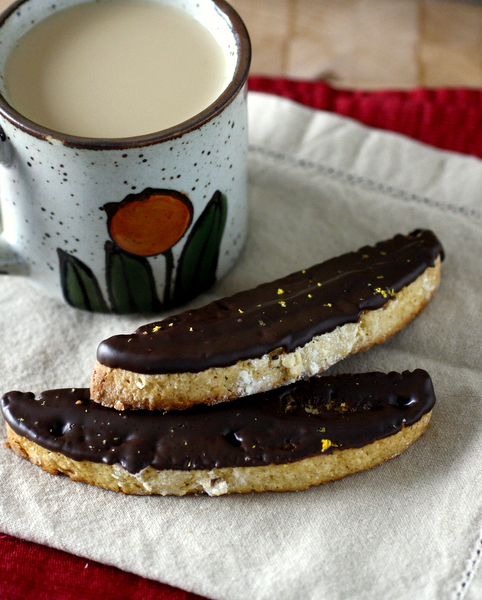 These dark chocolate orange biscotti are full of flavor and perfect for dipping in a cup of tea or coffee!
Total Time
1 hour
25 minutes
Ingredients
2 1/3 cups all-purpose flour, plus more for work surface + hands
1 cup packed light brown sugar
1 teaspoon baking powder
1/2 teaspoon ground cinnamon
1/2 teaspoon salt
zest from 1 orange
1/4 cup unsalted butter, cold and cubed
3/4 cup chopped walnuts, optional
3 large eggs
2 Tablespoonsfresh orange juice
1 Tablespoon canola oil
1 teaspoon pure vanilla extract
8 oz bittersweet chocolate bars, coarsely chopped
Instructions
Preheat oven to 350°F. Line a large baking sheet with parchment paper or silicone baking mats. Set aside.
In a large bowl whisk together the flour, brown sugar, baking powder, cinnamon, salt, and orange zest. Using a pastry cutter or 2 forks, cut in the butter until the mixture is crumbly. Stir in the walnuts if using. Set aside.
In a medium bowl, whisk the eggs, orange juice, oil, and vanilla extract together. Pour into the flour/butter mixture and gently mix together until everything is just barely moistened. If dough is uncontrollably sticky, add flour 1 Tbsp at a time until dough is just able to be worked with.
Turn dough out onto a lightly floured surface and with floured hands, knead lightly until the dough is soft and slightly sticky, about 8-10 times.
Divide the dough in two and place both halves onto the baking sheet. Shape each half into an 8×4-inch long rectangle, patting down until each is about 1/2 inch thick.
Bake for 25-26 minutes, or until the top and sides of the biscotti slabs are lightly browned. Remove from the oven, but do not turn off the heat. Allow to cool for 10 minutes.
Once the slabs are cool enough to handle, move to a cutting board and cut into 1 inch thick slices. Set slices cut sides upright, ¼ inch apart, on the baking sheets. Return to the oven to continue baking for 8 minutes. Turn biscotti over and bake other side for 8 minutes. The cookies will be slightly soft in the centers with harder edges. Remove from the oven and allow to cool for 5 minutes on the baking sheet. Transfer to a wire rack to cool completely. The biscotti becomes crunchy as it cools.
Melt the chopped chocolate in a double boiler or in the microwave at 50% power, stirring every 20-30 seconds. Dip each biscotti cookie in the melted chocolate and place back onto the baking sheets. Sprinkle with any additional orange zest if desired. Allow chocolate to set at room temperature.