Sweet and Sour Chicken
This is yet another winning recipe from Melanie at My Kitchen Cafe. She used to have this recipe up on her favorites bar, and I knew I wanted to make it from my first visit to her site. It looked exactly like something Mike would love, and I was right. He raved about this when I made it, and even when I heated up the leftovers the second night. It tastes just like sweet and sour chicken you would order in a restaurant. It's a little messy and time consuming to make, but totally worth it. It's gotten rave reviews on Melanie's site, and as I mentioned, Mike and I both loved it.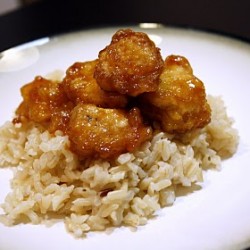 Sweet and Sour Chicken
Ingredients:
Chicken:
3-4 boneless, skinless chicken breasts
Salt and pepper
1 cup cornstarch
2 eggs, beaten
1/4 cup canola oil
Sauce:
¾ cup sugar
4 tablespoons ketchup
½ cup vinegar
1 tablespoon soy sauce
1 teaspoon garlic salt
Directions:
Cut chicken into chunks. Season with salt and pepper. Dip chicken into cornstarch and then in egg. Fry in a little bit of oil until brown but not cooked through. Place in a single layer in a baking dish. Mix sauce ingredients together and pour over the chicken.
Bake for one hour at 325 degrees. Turn chicken every 15 minutes.
*If you like extra sauce, make another batch of sauce and bring it to a boil on the stovetop. Stir constantly and let cook over medium heat until thickened and reduced - about 6-8 minutes. I decided to make the extra sauce and I'm glad I did, especially since we re-heated it the next night also.