Herbed Yogurt Spread
This is a great quick and easy appetizer. The combination of tangy yogurt, fresh herbs, lemon juice and a few other seasonings creates a great fresh tasting dip for crackers or vegetables. It's quick to throw together, and, as an added bonus, it's really good for you!
To be honest, I was a little nervous when I first tried this. I had tasted it previously, so I knew I would like it, but Mike seems to have a complete aversion to Greek yogurt in all forms. So naturally, I didn't tell him that Greek yogurt was the main ingredient. I just dipped in a cracker, handed it to him and said "what do you think?" And he liked it! Admittedly, it's not his new favorite food, and I don't think he'll be asking for it by name in the near future, but he ate it and didn't complain. And I loved it and ate it for 5 days straight. Definitely a success.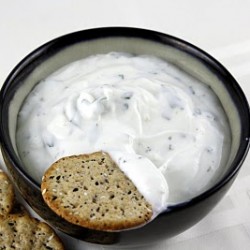 Herbed Yogurt Spread
Ingredients:
32 oz container of Greek yogurt
1-2 cloves garlic, minced
3-4 Tbsp finey minced fresh herbs (I used parsley, theyme, oregano and basil, but parsley, thyme, chives and tarragon would be good as well)
Juice of 1/2 a fresh lemon
Salt and white pepper to taste
sugar to taste (1 Tbsp?)
Directions:
Mix all ingredients together. Refrigerate for at least 2 hours or overnight for flavors to blend.
*This makes a lot, so decrease amounts as needed
adapted from Kathleen and Company