Chocolate French Silk Pie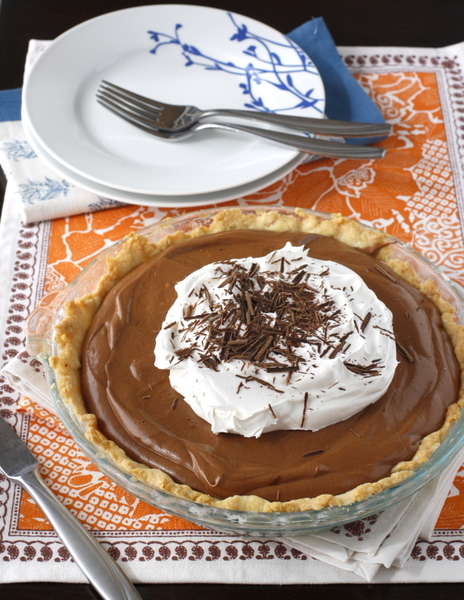 I have fallen in love with this french silk pie. It's true! I can't stop thinking about it's velvety texture and rich chocolate taste. Believe it or not, I'm even willing to overlook the fact that it's a little bit time consuming to make. That's how good this pie is. I want all of you out there reading this to know – you need to make this pie. Please.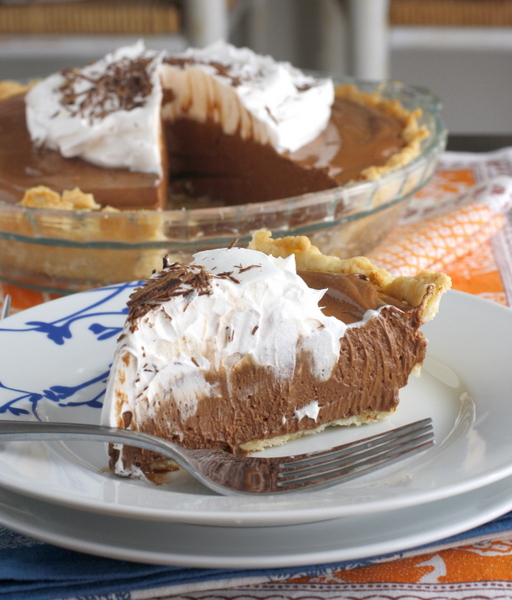 I was a little wary of the idea of a chocolate french silk pie. It sounded fussy and difficult. Plus you have to make a custard. My custards always end up lumpy. Well, good news. I'm pretty sure there is no way this custard could have lumps in it. It is whipped into submission by a full 15+ minutes with a hand mixer. Yes, that means you have to stand right there holding the hand mixer the whole time. I tried to multi-task and do some squats and leg raises during this time period so that I didn't feel so guilty eating pie later. 🙂
Trust me when I tell you that this pie is more than worth the effort. It is so silky soft, so smooth, and incredibly rich and delicious. America's Test Kitchen never steers me wrong (this recipe is from their Menu Cookbook – love it!), and this pie was another resounding success. And for those of you who followed the conversation on Facebook, yes I did take this pie to church with a piece missing out of it (had to get these pictures!), and no one noticed 🙂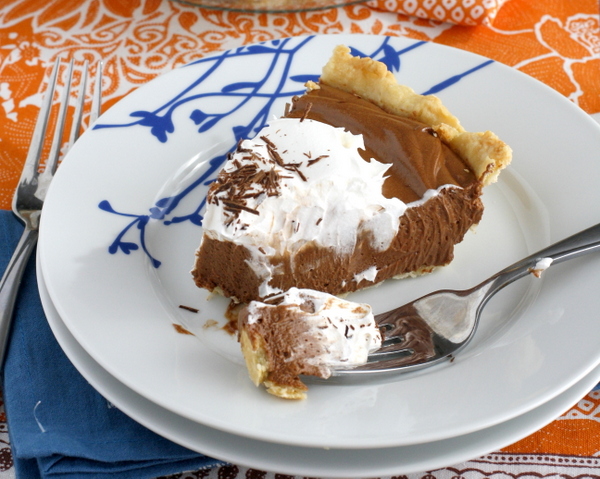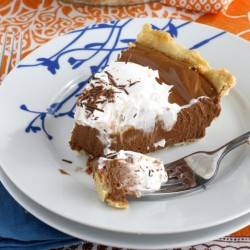 Chocolate French Silk Pie
Ingredients:
Crust
1 1/4 cups all-purpose flour
1 Tbsp sugar
1/2 tsp salt
3 Tbsp vegetable shortening
5 Tbsp unsalted butter, cut into 1/4-inch pieces and chilled
4-6 Tbsp ice water
Filling
1 cup heavy cream, chilled
3 large eggs
3/4 cup sugar
2 Tbsp water
8 oz bittersweet chocolate, melted and cooled
1 Tbsp vanilla extract
8 Tbsp unsalted butter, cut into 1/2-inch pieces and softened
Directions:
For the crust: Process the flour, sugar and salt in a food processor until combined, about 10 seconds. Scatter shortening over the top and proces until mixture resembles coarse cornmeal, about 10 seconds. Scatter butter pieces over the top and pulse until it resembles coarse crumbs, about 10 pulses. Transfer the mixture to a medium sized bowl and sprinkle 4 Tbsp of the water over top. Stir with a stiff rubber spatula until the dough sticks together. If it does not come together, add the remaining water, 1 Tbsp at a time, until it does. Turn dough out onto a sheet of plastic wrap and flatten into a 4-inch disk. Wrap in plastic wrap and refrigerate for at least 1 hour, or up to 2 days.
Let the chilled dough soften slightly at room temperature. Roll the dough into a 12-inch circle on a lightly floured surface. Transfer to a 9-inch pie plate and trim and crimp the edges. Cover loosely with plastic wrap and refrigerate for 20 minutes, or up to 1 day.
Adjust the oven rack to the middle position and heat oven to 375. Line the chilled crust with aluminum foil and fill with pie weights. Bake until crust looks dry and is light in color, 25-30 minutes. Remove weights and foil and continue to bake until golden brown, 10 minutes more. Transfer to a wire rack and let cool to room temperature.
For the filling:
Using an electric hand-held mixer, whip cream until stiff peaks form, 2-3 minutes. Cover and refrigerate.
Combine eggs, sugar and water in a large heatproof bowl set over a medium saucepan filled with 1/2 inch of barely simmering water. Using an electric hand-held mixer, beat mixture on medium speed until thickened and registers 160 degrees, 7-10 minutes. Remove bowl from heat and continue to beat mixture until fluffy and cooled to room temperature, about 8 minutes.
Beat in the chocolate and vanilla until incorporated. Beat in butter, a few pieces at a time, until well combined. Using a spatula, gently fold in the whipped cream until no streaks remain. Scrape the filling into the cooled pie crust and refrigerate until set, at least 3 hours and up to 24 hours. If desired, top with lightly sweetened whipped cream and chocolate shavings.
*some links are affiliates