Thick and Chewy M&M Cookie Bars
These cookie bars are soft, chewy, and chock full of M&M's!
If you've been reading for any length of time, you are probably aware of my love for cookies and bars that are thick and chewy. These thick and chewy M&M cookie bars just might be absolute perfection in bar form.

They are basically like chocolate chip cookie bars, but with M&M's instead of chocolate chips. They are perfect for kids, or for pot lucks, or pretty much anytime you want something sweet to eat.

I love to make bar cookies because they are so quick and easy compared to regular cookies. Just mix up the dough, spread in the pan, and bake! Plus they almost always turn out softer and chewier than their cookie counterparts.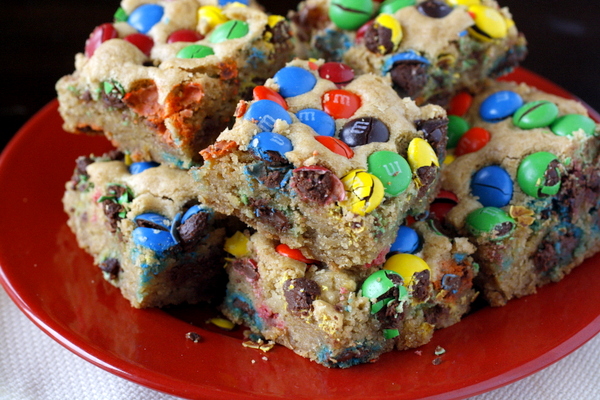 These cookies are nice and soft, and of course there are lots of M&M's sprinkled throughout! I love that half the M&M's are mixed into the batter, and half are pressed into the top to make sure these bars turn out nice and pretty.
I made these for some friends who stayed with us last weekend, and they were gone by the end of the weekend. (*Update: Since writing this post I've made these cookie bars countless times and they are always a huge hit!) These M&M cookie bars are definitely a treat you can't turn down!
*Note: You could also replace with M&M's with other types of candy. I want to try these with Reese's Pieces – yum!!

Can't get enough M&M recipes?  Check out this Double Chocolate M&M Brownies recipe – soft, fudgy, and super easy to make!  These Magic Cookie Bars and Cosmic Brownies are pretty amazing as well!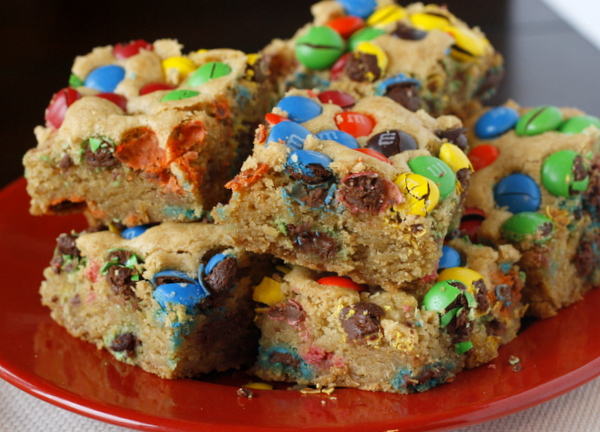 *Note: I baked mine in a 9×9 pan because it was what I had available. However, I do think a 9×13 pan works better.  If you use a 9×13 pan (as written), yours will not be quite as thick.
P.S. You can see all of my Christmas treat recipes from over the years at this Christmas Cookies tag. Enjoy! And, as always, let me know if you try any and how you liked them.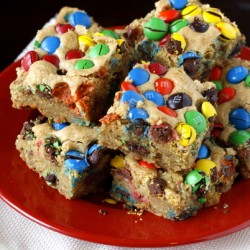 Thick and Chewy M&M Cookie Bars
Yield: 1 9x13 pan
Prep Time: 15 min
Cook Time: 30 min
Total Time: 45 min
These cookies are soft, chewy, and chock full of M&M's!
Ingredients:
2 1/8 cups flour
1/2 tsp salt
1/2 tsp baking soda
12 Tbsp butter (1 1/2 sticks), melted and cooled slightly
1 cup brown sugar
1/2 cup white sugar
1 large egg
1 large egg yolk
2 tsps vanilla extract
1 12oz bag M&M's, divided
Directions:
Preheat the oven to 325 degrees. Adjust the oven rack to lower-middle position. Grease a 9x13 pan and set aside.
In a medium sized bowl, whisk together the flour, salt, and baking soda and set aside.
In a large bowl, whisk the melted butter and sugars until combined. Add the egg, egg yolk, and vanilla and mix well. Using a rubber spatula, fold the dry ingredients into the egg mixture until just combined; do not overmix. Fold in 1 cup of M&M's and turn the batter into the prepared pan, smoothing the top with the spatula. Sprinkle remaining M&M's on top and press in slightly.
Bake 25-30 minutes, until the top of the bars is light golden brown, slightly firm to the touch, and edges start pulling away from sides of pan. Cool completely before cutting.