Creamy Spinach and Ricotta Manicotti
You are going to love this creamy spinach and ricotta manicotti! We love any sort of Italian food around here, but if you can believe it, this is the first time I've ever made manicotti. It's definitely a little bit of work, but the end result is more than worth it. The filling is rich and creamy, and, best of all, full of chopped spinach so you feel healthy eating it. 🙂 My favorite part, however, was the combination of sauces on top. Both the tomato sauce and creamy white sauce were super easy to throw together and the two together really made the dish stand out. If you're not a big fan of spinach, I'd use a little less than the recipe calls for, but other than that, make this recipe exactly as written – you will love it!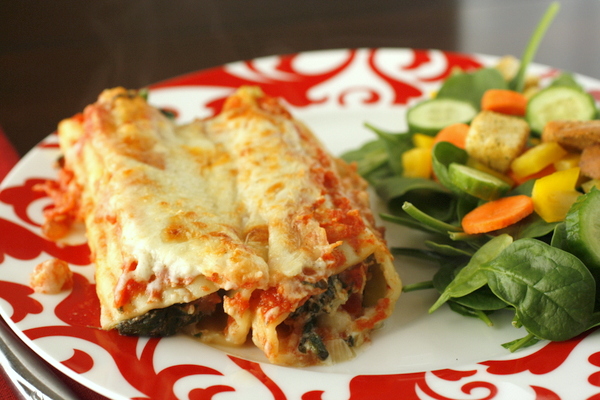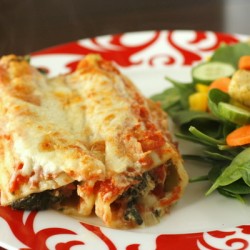 Creamy Spinach and Ricotta Manicotti
Ingredients:
8 ounces manicotti noodles
4 tablespoons (1/2 stick) unsalted butter
1 medium onion, chopped
2 cloves garlic, chopped
kosher salt and black pepper
1 28-ounce can whole peeled tomatoes
1/4 cup all-purpose flour
2 cups whole milk
1 15-ounce container ricotta (about 1 3/4 cups)
1 10-ounce package frozen chopped spinach, thawed and squeezed of excess liquid
1 cup grated Parmesan (4 ounces)
1 large egg
1 tsp dried oregano
Directions:
Cook the manicotti noodles according to the package directions; drain and rinse with cold water. Set aside.
Heat oven to 425° F. Melt 2 tablespoons of the butter in a large pot over medium-high heat. Add the onion, garlic, 1/2 teaspoon salt, and 1/4 teaspoon pepper and cook, stirring often, until beginning to soften, 5 minutes. Crush the tomatoes with your hands or a potato masher and add them (with their juices) to the pot. Bring to a simmer and cook, stirring occasionally, until slightly thickened, 10 to 15 minutes.
In a separate large pot, melt the remaining 2 tablespoons of butter over medium heat. Whisk in the flour and cook, stirring, until light golden, 1 to 2 minutes. Slowly whisk in the milk, ½ teaspoon salt, and ¼ teaspoon pepper. Cook, whisking, until the sauce is thick enough to coat the back of a spoon, 2 to 3 minutes. Remove from heat.
Stir together the ricotta, spinach, 1/2 cup of the Parmesan, the egg, oregano, and 1/4 teaspoon each salt and pepper in a large bowl. Spoon into the manicotti. Spread half each of the tomato sauce and cream sauce in the bottom of a 9-by-13-inch or other 3-quart baking dish. Top with the stuffed manicotti, then the remaining tomato sauce, cream sauce, and Parmesan.
Bake until bubbling and lightly browned on top, 20 to 25 minutes. Let cool for 5 minutes before serving.