Whole Wheat Pumpkin Applesauce Bread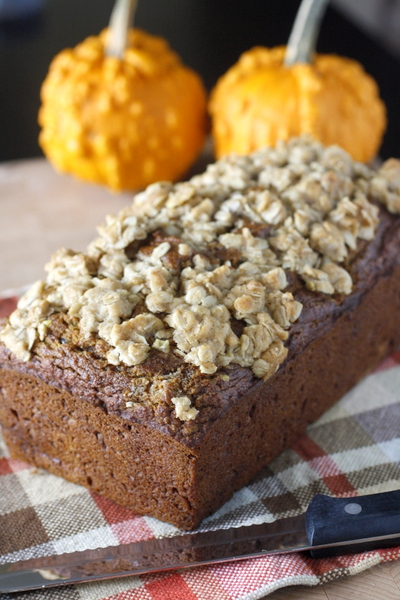 Let me introduce you to my new favorite pumpkin bread! This whole wheat pumpkin applesauce bread is chock full of good things.
It is made with whole wheat flour, there is no butter or oil, and it is naturally sweetened with honey. And it tastes amazing. Seriously, we can't seem to stop eating it. And even better, it's healthy enough that I don't mind feeding it to the kids!
Just like most quick breads, it's very simple to throw together, which is good because we can't get enough of it. It's moist and full of pumpkin spice flavor, and the streusel topping is just the right amount of added crunch and sweetness.
We love it, and I think you will too!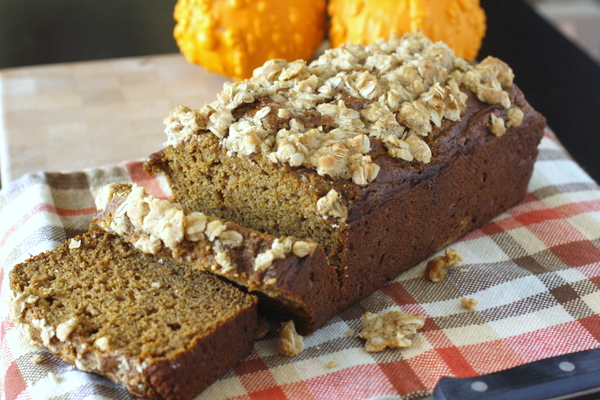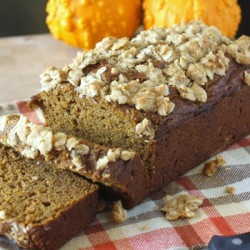 Whole Wheat Pumpkin Applesauce Bread
Yield: Makes 1 loaf
Prep Time: 15 minutes
Cook Time: 45 minutes
Total Time: 1 hour
Ingredients:
For the bread:
1 1/2 cups white whole wheat flour
1 tablespoon pumpkin pie spice
1 teaspoon baking soda
1/4 teaspoon baking powder
1/2 teaspoon salt
2 eggs
1 heaping cup pumpkin puree
1/2 cup unsweetened applesauce
1/2 cup honey
1 teaspoon vanilla extract
For the streusel topping:
1/4 cup oats (I use old-fashioned)
1/4 cup brown sugar (not packed)
2 tablespoons butter, melted
1 tablespoon flour
Directions:
Preheat the oven to 350. Spray a 9x5 bread pan with cooking spray.
For the bread: Mix the flour, pumpkin pie spice, baking soda, baking powder, and salt together in a large bowl.
In a separate bowl, mix together the eggs, pumpkin, applesauce, honey, and vanilla and combine well.
Add the wet ingredients to the dry ingredients and stir just until combined.
Pour into prepared bread pan and run a spoon over the top to smooth it out.
Make the streusel: Mix all ingredients together in a small bowl and stir until everything is well combined.
Sprinkle the streusel evenly over the top of the bread in the pan. Press gently on the streusel so that it is pressed into the top of the bread a little.
Bake at 350 for 40-50 minutes, until a toothpick inserted in the center comes out clean.