How can you turn down chicken pot pie in soup form? I definitely couldn't! I saw this recipe for chicken pot pie soup in Food Network Magazine and it was immediately added to my menu for the following week.  We love soups around here in the Winter, and especially creamy, comforting soups that taste like chicken pot pie! I couldn't believe how good this was. We devoured it in two days, and Mike even chose leftovers of this soup over leftover barbecue beef sandwiches! The flavor was spot on, and I was surprised at how much it tasted like chicken pot pie. The little pie crust "dippers" helped of course (and were delicious!), but this soup was good with plain bread on the side as well.  Suffice it to say, this recipe was an instant hit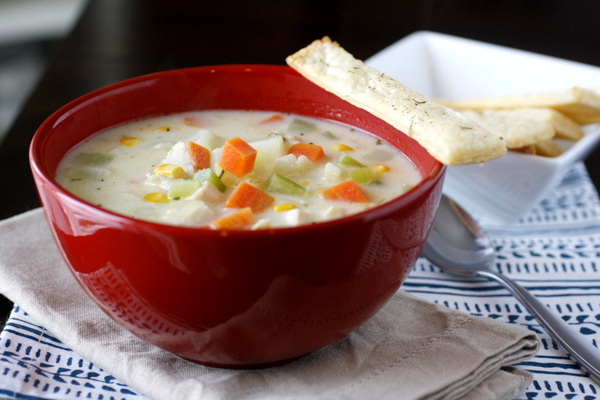 Chicken Pot Pie Soup

Ingredients:

1 disk refrigerated pie dough
Freshly ground pepper
1/2 teaspoon plus a pinch of poultry seasoning
2 tablespoons unsalted butter
1 pound skinless, boneless chicken breasts, cut into 1/2-inch pieces
Kosher salt
2 stalks celery, chopped
1 medium onion, chopped
2 carrots, peeled and chopped
1/4 cup all-purpose flour
3 cups low-sodium chicken broth
1 cup half-and-half
3 medium potatoes, peeled and chopped
1 cup frozen corn

Directions:

Preheat the oven to 425 degrees F. Unroll the pie dough onto a baking sheet and sprinkle with pepper and a pinch of poultry seasoning; cut into strips. Bake until puffed and golden, about 10 minutes.

Meanwhile, melt the butter in a large pot over medium-high heat. Add the chicken and 1/2 teaspoon salt and cook, undisturbed, 2 minutes, then cook, stirring, 1 more minute. Transfer to a bowl.

Add the celery, onion, carrots, flour, 1/2 teaspoon salt and the remaining 1/2 teaspoon poultry seasoning to the pot and cook, stirring, 1 minute. Stir in 2 cups water, the broth, and potatoes; cover and bring to a simmer. Reduce the heat to medium and simmer, partially covered, 10 minutes, or until potatoes are tender. Return the chicken to the pot and simmer until cooked through, 2-3 minutes. Stir in the half and half and corn and heat until warmed through. Divide among bowls and serve with the crust.