Red Velvet White Chocolate Chip Cookies
These red velvet white chocolate chip cookies are perfect for Valentine's Day!  I know I'm cutting it a little close posting these so close to the 14th, but trust me, these cookies are worth making at the last minute. They are so good!
They're soft and chewy and have that nice rich red velvet flavor. The white chocolate chips add a nice touch of extra sweetness, plus they make the cookies look so pretty! Mike and I both loved these. I put a piece of bread in the container where I stored the cookies, and they actually got softer and chewier a day later. Trust me when I say that cookies that only get more delicious as they sit are dangerous to keep around. 🙂
You're going to love these, and I hope you get a chance to make them before Valentine's Day.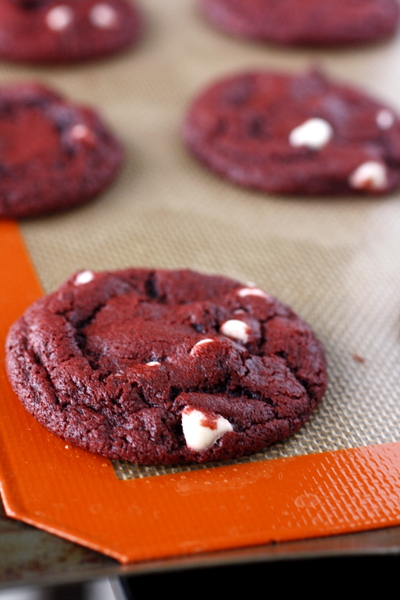 Looking for more Valentine's Day treats?  Check out these Red Velvet Whoopie Pies, Red Velvet Cupcakes with Cream Cheese Frosting, Red Velvet Brownies, and Red Velvet (Cream) Cheese Ball!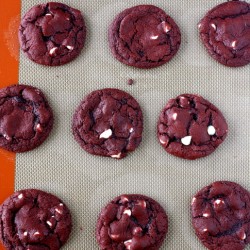 Red Velvet White Chocolate Chip Cookies
Ingredients:
1 1/2 cups all-purpose flour
1/4 cup unsweetened cocoa powder
1 tsp baking soda
1/4 tsp salt
1/2 cup unsalted butter, softened
3/4 cup light brown sugar
1/4 cup granulated sugar
1 egg
1 Tbsp milk
2 tsp vanilla extract
2 tsp liquid red food coloring
1 cup white chocolate chips
Directions:
In a medium sized bowl, whisk together the flour, cocoa powder, baking soda, and salt. Set aside.
In a large bowl, beat the butter, brown sugar and granulated sugar until creamy, about 1 minute. Beat in the egg, milk, and vanilla extract, scraping down the sides and bottom of the bowl as needed. Mix in the food coloring until combined. Add the dry ingredients and mix on low until a soft dough is formed. On low speed, beat in the white chocolate chips. Cover tightly with plastic wrap and chill for 1 hour.
Preheat oven to 350F degrees. Line two large baking sheets with parchment paper or silicone baking mats. Using about 1 1/2 Tbsp of dough per cookie, roll the dough into balls and place on the cookie sheet, leaving plenty of space between each dough ball. (I did 9-12 cookies per cookie sheet). Bake each batch for 11 minutes, or until cookie is just set. Press down on the warm cookies to slightly flatten and form crinkles.