Top 10 Recipes of 2012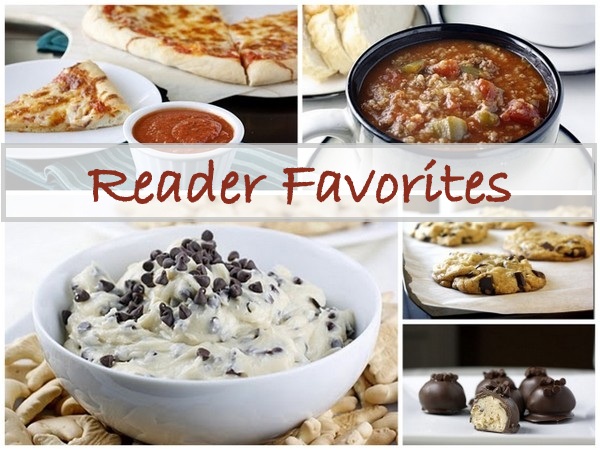 I have to say I've been looking forward to this post for awhile. I love looking back over the year and figuring out which recipes ended up being reader favorites! I have my own favorites (and Mike probably has a completely different list), but I really like knowing which recipes were the most popular with you – the wonderful people who read this little blog. Mike is really good at this sort of thing, so I had him take a look at my google analytics account and figure out the top 10 most popular recipes over the past year. Did your favorites make the list? If not, I hope you'll give some of these a try and let me know what you think!

| | |
| --- | --- |
| | Number 10: Soft Pretzel Bites – I really need to make these again. They are so good, and not that difficult to make. If you have some free time today, these would make a great New Year's Eve snack Sometime soon I'm going to try this recipe as full sized pretzels. |
| | Number 9: Lofthouse Style Soft Frosted Sugar Cookies – These cookies are about as good as they come. They are a copycat version of those soft sugar cookies you find in the grocery store with the colored frosting in sprinkles. Except I think the homemade version tastes even better. |
|   | Number 8: Thick and Chewy Chocolate Chip Cookies – This recipe is what ended my quest for the perfect chocolate chip cookie. I cannot imagine a better cookie than this. If you like chewy chocolate chip cookies, you've got to try these. |
|   | Number 7: Quick and Easy Homemade Pizza Sauce – This recipe has revolutionized our homemade pizzas. This sauce is so simple to make, and it's the best homemade sauce I've ever tasted. Best of all, it's freezer friendly, so make a bunch at once. |
|   | Number 6: Cookie Dough Truffles – These are the most popular truffles I have posted on my blog, and for good reason. You can't beat cookie dough covered in chocolate. |
|   | Number 5: Slow Cooker Stuffed Pepper Soup – This recipe truly tastes like stuffed peppers in soup form. It makes a ton, tastes great re-heated, and it's a slow cooker recipe – what more could you ask for? |
|   | Number 4: Homemade Hostess Cupcakes – Mike absolutely loves these! I don't often make them because they're fairly complicated for cupcakes, but the end result is so good that they're definitely worth the work. |
|   | Number 3: Peanut Butter Pretzel Bites – These might be the best thing to come out of last year's 12 Days of Christmas Treats. I have to give credit to Pinterest for making these so popular, but it doesn't hurt that they're cute and delicious. |
|   | Number 2: Chocolate Chip Cookie Dough Dip – I've noticed that this dip seems to bring about strong reactions from people. Judging from the comments section, people either love it or think it tastes terrible. We loved it. |
|   | And finally, number 1: S'mores Dip! What is it about s'mores that makes people go crazy?  I'm not a s'mores fan, but I do love this dip. Pretty much anytime melted chocolate is involved, it's a guarantee I'm going to love it. |
So there you have it – the top 10 most popular recipes during 2012. If you're interested, feel free to look back to last year's top 10 – it's interesting to see which recipes are consistent favorites! Thanks so much for reading this year and making it so fun to write this blog. I love to hear from readers, and I truly appreciate all of you who take the time to stop in, leave a comment, write an email, etc. I can't wait to see what next year holds!