Easter Recipe Ideas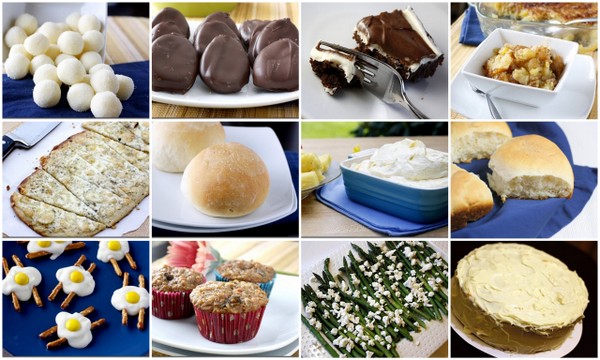 Here are some of my recommendations for Easter dinner, listed from left to right. (Note: I'm making the baked pineapple and the carrot cake for our Easter celebration!)
1. White Chocolate Lemon Truffles – elegant and perfect for Spring
2. Homemade Peanut Butter Eggs – A homemade version of the classic Easter candy
3. Layered Brownies – Decadent and irresistable!
4. Baked Pineapple – This sweet baked pineapple goes perfectly with ham.
5. Fontina Herb Flatbread – This is a great appetizer idea.
6. French Bread Rolls – These are my all time favorite rolls.
7. Orange Creamsicle Fruit Dip – This would make a great appetizer or healthy dessert. This fruit dip tastes like a creamsicle!
8. Pull Apart Butter Rolls – If french bread rolls aren't your thing, these rolls are buttery and delicious.
9. "Fried Egg" Candy – so cute and so easy!
10. Morning Glory Muffins – These might be my favorite muffins. I'm planning to make them for the Easter breakfast at our church.
11. Asparagus with Goat Cheese Dressing – this is a great way to serve asparagus – very flavorful.
12. Carrot Cake – literally the best carrot cake I've ever eaten!
In other news, I've finally caved and joined Instagram. And I love it. 🙂 My user name is whatmegansmaking if you're interested in following. Three types of pictures you can be sure to see: pictures of Scamp, pictures of food (yum!), and pictures of kitchen disasters. If you're interested in what goes on behind the scenes of the blog, you'll see it here. 🙂